(Return to "Our Home" albumn)
(Return to "Antiques and Collectables" page)
Kerafina Porzellan-Manufaktur Vase


Made in Bavaria
A note from Sharon on Monday 2nd October 2006
This vase was given to me as a wedding gift from one of my clients
at "Malcolm and Maurice", the hairdressing salon where I worked in Adelaide
That was on the 4th January 1975
So the vase is at least thirty-one years old
Height - 4.75 inches - 12.2cm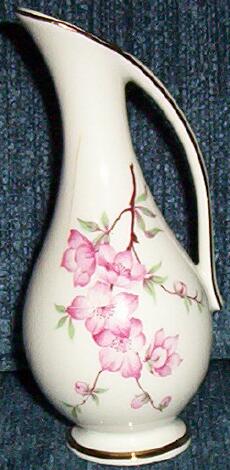 ***************************************************************
The Backstamp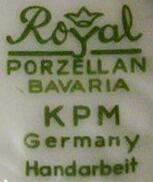 ***************************************************************
The Manufacturer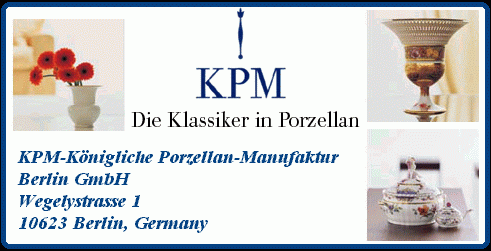 (click on the above logo to go to the Official Web Site)
Email sent to the above on Tuesday 3rd October 2006
Extract from the "KPM Porcelain" web site
How can I name and classify my KPM porcelain?
In order for us to be able to classify your porcelain, we need an exact description or a picture of the piece and the company marque
We can then give you the time period and other information on your porcelain
If you have any questions please contact - bernhard.schley@KPM-berlin.de
##########
Hello to you

I was looking at your web site and saw the above notice

Attached is a photo of a vase we have, along with a photo of the backstamp
The vase stands 4.75 inches (122mm) high
It was given to us as a Wedding present thirty-one years ago

What we would like to know is:-
----------the pattern name
----------the "family" it belongs to
----------the date of manufacture
----------and any other details that you feel would be of interest to us

Thank you very much for your time, and look forward to hearing from you

Regards, Geoff
......and here is the reply received on Wednesday 4th October 2006
Sehr geehrter Herr Roneberg

die von Ihnen abgebildete Vase ist leider kein Erzeugnis unserer Manufaktur
Hier handelt es sich offensichtlich um ein Produkt der Krister Porzellanmanufaktur, Waldenburg/Schlesien (heute Polen)
Somit können wir Ihnen dazu leider keine weiteren Angaben machen
Haben Sie dafür bitte Verständnis

Mit freundlichen Grüßen

Bernhard Schley
Archiv

Königliche Porzellan-Manufaktur Berlin GmbH
Wegelystraße 1
D-10623 Berlin
***************************************************************
I do not understand German
so I submitted this text to one of the free translation sites on the internet
It gave a 'very rough' translation!!!
From this I was able to work out
that they felt the vase was made by a company named "Krister"
I will do further investigations!!!
***************************************************************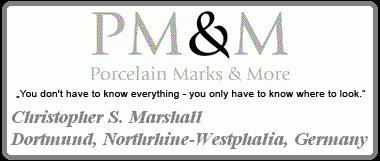 (click on the above logo to go to the Official Web Site)
An email I sent to the above on Thursday 5th October 2006
Subject - Identifying a Porcelain Mark

Hi, and we live in Cairns, Australia

I would like some assistance in identifying a maker's mark on a small vase that we have
The mark says 'KPM', and I have been in contact with this company who replied that the vase may have been made by a company named 'Krister'
However, their reply is in German which I cannot read!!

I have photos of the vase and the backstamp which I could forward to you

Finally, I am very happy to make a donation to your site via the PayPal link for this service

Thank you for your time, and look forward to hearing from you

Regards, Geoff
......and the reply on Thursday 5th October 2006
Hi Geoff

Ah, 'Krister Waldenburg'

Take a gander on my site
On the left bar, click "Silesia", and then scroll down to the town of "Waldenburg"
Or simply use the direct link here
I've got everything on 'Krister' there
And the company successor is still in business

Hope that helps

Chris
Christopher-Simon Marshall
Email - cmarshall@gmx.de
Another note I sent to Chris
Subject - 'KPM' and 'Krister'

Hi again, and thanks for the note

I had a look at the page you mentioned, but the backstamp on our vase looks "very strange and completely different" to the ones you have listed

Just a bit about us
We are just a "normal" husband and wife!!
We are not collectors or professionals!!
We have bought a few pieces of china, and I have made it my hobby to try to find out as much about each item that I can - just for interest sake!!
Nothing we have bought is worth "a million dollars" - they are just things My Darling Wife likes!!

We have a web site which lists all our items - click here to have a look
We call them "Our Antiques and Collectables"

The vase can be seen by clicking here (link to this page) - and the page also includes a photo of the backstamp
Also included is my note to 'KPM' along with their reply which is in German which I do not understand!!

I do not want to be "a damn nuisance"!! - but are you able to confirm the maker from this backstamp photo??

Also, please feel free to copy this photo to add to your collection of marks

Regards from Australia
Geoff
......and the reply from Chris
Hi Geoff

Just looked at the mark and it explains a lot - but not why they claimed it could be Krister as that mark is very well known

I'd believed they had identified it correctly, but they did not - as it's a piece from the 'Kerafina GmbH', which was located in Marktredwitz (Bavaria)
The 'KPM' stands for 'Kerafina Porzellan-Manufaktur' and is the indicator for it being produced after 1964 as only 'KM' (for Kerafina-Manufaktur) was used before this year

The facility originally belonged to Franz Neukirchner, who also had another facility in Waldershof (Bavaria)
In 1964, the Marktredwitz facility was split off as stand-alone company, actually surviving longer than the main facility from Waldershof, which only existed until 1977
The Kerafina works more and more advanced away from decorative and tableware porcelain and keramics, finally (1980) entering the wide area of sanitary and electrotechnical porcelain, where they are still active today (re-positioned in Greece)

There, mystery solved!!

Chris
Another note I sent to Chris
Hi again

And we really appreciate your time and assistance!!

I have just made a donation to your site using the PayPal link on your home page
Have a beer or two on us!!

Do you mind if I include a link to your site on our page that shows this vase??

Have a great day over there
Here, it's hot and humid - we live in the tropics - which is good for beaches-and-bikinis!!

Bye, Geoff
A note following the donation via PayPal
Dear Geoff Roneberg

Your payment for AUD$30.00 to cmarshall@gmx.de has been initiated
The payment will be completed once the recipient has accepted the payment

Note sent with this payment

Subject - Hi from Cairns in Australia
Thank you for your time and assistance in solving our 'KPM' backstamp query
Regards, Geoff

Another note from PayPal

Dear Geoff Roneberg
This email confirms that Christopher Simon Marshall has accepted the AUD$30.00 you sent
A final note from Chris on Thursday 5th October 2006
LOL! - and thanks for the donation - I'll tip a beer or two as suggested

Of course you can use the link, no problem at all

... and here, it's dull and rainy - which is good for the umbrella industry!

Chris
***************************************************************
Ebay Auctions for similar Vases
......for a price comparison!!!
******************************************
Auction #01
This vase has the same markings as Sharon's
and follows what Christopher Simon Marshall told us about the manufacturer
After seeing this auction notice, I checked Sharon's vase again
And yes, there does seem to be an impressed number on the bottom
But it is under the backstamp - and impossible to read!!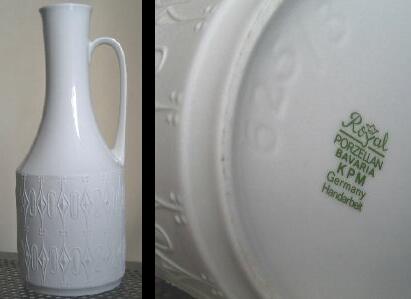 Elegant Bisque Jug/Vase 'KPM Kerafina' modernist era 60's

Another fantastic modernist era 1960's vase from my own collection
Made by 'KPM Kerafina'
White unglazed (bisque) porcelain with abstract relief decor at the bottom
Glossy white porcelain on top
With one handle
Height 9.65 inches (24.5cm)
Diameter 3.86 inches (9.8cm)
Weight 400 grams
Marked underneath with green vintage 'KPM Kerafina' stamp
Impressed form number 625/3
Excellent condition without any chips, cracks or repairs

There were no pricing details available
******************************************
Auction #02
Again, this vase has the same markings as Sharon's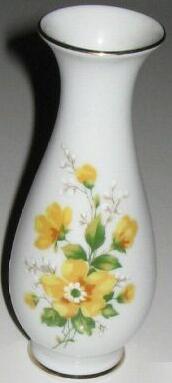 Beautiful Royal Porzellan Bud Vase
Up for offer is a white bud vase which has yellow flowers on both the front and back
The backstamp says:
'Royal Porzellan Bavaria KPM Germany Handarbeit'
This vase is in perfect condition - no chips or cracks
It stands 13cm high and is 5cm wide
Item location - Carrick, Tasmania Australia
Listed with a Buy-it-Now price of $5.00 during September 2007
Sold during June 2008 for $5.00
---