PLEASE NOTE - June 2010
this machine has been replaced
click HERE and HERE for all the details
****************************
x
(Return to "Christmas - 2005" albumn)
(Return to "Our Home in Trinity Beach" albumn)

Geoff
from Sharon
Panasonic DVD Recorder with 200Gb Hard Disk Drive
Please Note
This page also includes details on:-
----------Regional Coding
----------Regional Coding Enhancement (RCE)
----------What is Panasonic's policy regarding region coding of DVD players?
----------NTSC (National Television Systems Committee) and PAL (Phase Alternating Line)
----------Pan-and-Scan
----------Types of Recordable DVD Media
----------Product information on DVD Media
----------Details on The DVD Forum

Model Number --- DMR-EH60
Serial Number --- KU5GA005486
Incredible Recording Quality and Enormous Recording Capacity in a Easy-to-Use Unit
355 Hours Maximum Capacity on 200Gb Hard Disk Drive
1 Second Quick-Start for Recording
SD Card Slot for Photo Viewing and Transfer
Multi-Format Recording & Playback
DV Input for Easy Transfer from a Digital Video Camera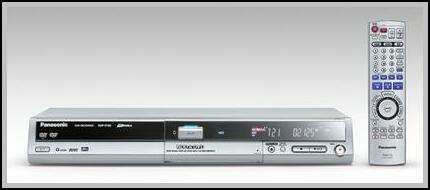 Features & Benefits
(1) 200Gb Hard Disk Drive
The built-in 200Gb Hard Disk Drive lets you record an enormous amount of programming without using a DVD
With a massive 355 hours of capacity and editing capabilities, you can have the freedom to store a massive amount of your favourite programs
Should you wish to archive the informattion, you can easily record it to DVD

(2) 1 Second Quick Start Recording
Thanks to high-speed quick-start, both the Hard Disk Drive and the DVD-RAM disc are ready to record just 1 second after switching on the power
Being able to record almost instantly means that you will never miss recording kick off!

(3) High Speed Dubbing
You can perform high-speed recording from the Hard Disk Drive to a DVD-RAM (5x speed comp.) or DVD-R (8x speed comp.) at the touch of one button
For, example you can record a one-hour program (originally recorded in EP [8H] mode) from the hard disk drive to a DVD-RAM in just 1.5 minutes or a DVD-R disc in 1 minute

(4) 2x Resolution in LP Mode
Our recorders provide exceptional recording quality
You can enjoy viewing extended recordings (4 hours, single-sided DVD-RAM/-R) with exceptionally detailed images and 2x the picture quality
The virtual multi encode system provides LP recording mode with 500 lines of horizontal resolution - twice the resolution of conventional LP recording mode

(5) 4x Natural Gradation (12-bit Analogue to Digital Converter)
Greater natural gradation and amazingly rich pictures are delivered with 4096 steps of grey
The 12-bit analogue-to-digital converter has 4x the gradation found with a conventional 10-bit analogue-to-digital converter
Resulting in a faithful reproduction of details, so you can see for the first time, everything there is to see!

(6) 355 Hours Extended Recording Time with High Picture Quality
The innovative DMR engine inside Panasonic DVD Recorders assures long recording time combined with outstanding picture quality
Our DVD recorders offer the unique combination of outstanding picture quality and long recording time to either Hard Disk Drive or DVD
You can record up to 8 hours of material on a single-sided disc, or 355 hours onto an 2000GB Hard Disk Drive

(7) Multi-Format Recording & Playback
Incredible recording versatility with Multi-Format recording and playback
This outstanding DVD Recorder allows you to record TV programs, JPEG images and MPEG4 files onto a DVD-RAM disc
You can also enjoy recording of DVD-R, DVD-RW and DVD+R formats
Naturally playback of all DVD formats is also possible, so you don't have to worry about whether your DVD Recorder can playback everything in your current video library

(8) DV-Input for Easy Transfer from a Digital Video Camera
With the DMR-EH60 transferring material recorded on a Digital Video Camera is Quick & Easy
You can simply transfer digital recording to Hard Disk Drive or DVD while maintaining breaks in your recording
DV-Input is the ideal solution for those wishing to transfer material from a video camera while maintaining the highest quality

(9) Up to 64x Dubbing from Hard Disk Drive
You can perform high-speed recording from the hard disk drive to a DVD-RAM (5x speed compatible) or DVD-R (8x speed compatible) at the touch of a button
You can record a 1-hour program (originally recorded in EP [8H] mode) from the hard disk drive to DVD-R disc in only 1 minute!

(10) Smooth & Quick Search with the Smart-Wheel Remote Control
Innovative design of the Smart Wheel-Remote Control allows you to navigate simply and efficiently
Just scroll the wheel to choose up to 200x quick search down to 2x smooth search

(11) SD Card Slot for Photo Storage and Viewing
You can view photos and images in JPEG format on your television from SD Card, CD, DVD-RAM or Hard Disk Drive
You even have the freedom to transfer between storage devices

(12) Direct Navigator for Easy and Quick Search
With Direct Navigator technology graphical user interface you can find desired material on the hard drive quickly
Just press the direct navigator button to display thumbnails of all the programs on the hard disk drive or a DVD-RAM disc, then, select the one you want and press enter
It's that easy! and with "List Display" you can sort the programs by date or title

(13) Time Slip Functions
(a) TimeSlip Button:
Just press the Time Slip button on the remote control to go back and view any point in the previous 8 hours of recording
You can even rewind and fast forward through the content as you desire while maintaining recording
(b) Chasing Playback:
Set your DVD Recorder to begin recording, then with Chasing Playback you can commence viewing the program at any stage during while recording
(c) Simultaneous Recording & Playback:
Enjoy watching a program pre-recorded to DVD-RAM disc while recording another program to the same disc
You can conveniently catch up on the previous week's episode while recording this week's program

(14) Progressive Scan (PAL/NTSC)
PAL/NTSC Progressive Scan for optimal picture quality on a variety of viewing devices
Panasonic DVD Recorders are equipped with a high-precision progressive video processor
This feature enables you to view the highest quality images with all our DVD recorders

(15) G-Code Recording Function
Programme your DVD Recorder to record your TV shows using the G-Code Recording system

(16) Manufactured in Japan
Panasonic DVD-Recorders feature superior picture and recording quality combined with outstanding build quality
The DMR-EH60 is manufactured in Japan and has high quality engineering and construction

Recommended Retail Price - $989.00 including GST
We paid $807.00
plus $80.00 for an extended four-year warranty


(purchased from Harvey Norman Electrics Cairns on Saturday 10th December 2005)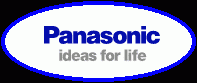 Click on the logo to go to the Official Panasonic Web Site

Regional Coding
A security system introduced to DVD at the request of Hollywood's major studios to ensure that DVD's released and sold in one region will not play on DVD machines in other regions
Movie distributors therefore maintain control over release dates of their films, as well as enabling discs to be produced that conform to different censorship laws, language and subtitle requirements
When a DVD disc is manufactured, a region code is applied at the authoring stage such that the final disc will play only on those players distributed in the designated world region
There are six regions throughout the world
----------Region 1 - Canada, United States and its Territories
----------Region 2 - Japan, Europe, South Africa and the Middle East
----------Region 3 - Southeast Asia and East Asia
----------Region 4 - Australia New Zealand, Pacific Islands, Central and South America
----------Region 5 - Indian Subcontinent, Former Soviet Union and Africa
----------Region 6 - China
Additionally, DVD's may be encoded as Region 0 or Region All, which means that they are compatible in all regions
Regional Coding Enhancement (RCE)
RCE is a digital enhancement added to some Warner Bros, New Line, Columbia DVDs to stop region 1 (R1) DVD's from playing on Region-free DVD players
What is Panasonic's policy regarding region coding of DVD players?
US movie companies stand at the top of the industry in the world software market
To maximize their profits, the US movie companies control their release timing, area and means (movie theatre, VHS for rental, in-flight entertainment etc) of their titles very carefully worldwide
Therefore, they strongly requested that we adapt the DVD player 'locale' or 'region code' system within our format
In other words, 'region code' is a major premise of DVD disc introduction by US movie companies
Panasonic strongly support this 'region code' concept
There are many unauthorised modifications to the region codes being done in the market place
We consider the sales of 'code free' DVD players modified by a third party as being a serious problem as it threatens the intellectual property rights of the companies that are providing DVD Entertainment software
Panasonic has in no way authorised modifications of its products for this usage
Modifications to the electronics components of our products void the manufacturers warranty
NOTE

With Brett playing baseball in the United States,
it was important that we get a player and recorder that would play, copy, record, edit, etc
discs from there (Region 1)
Following advice from Harvey Norman Electrical, a Region 1 disc was tried
--- and it played perfectly!!!
??? --- ??? --- ???

NTSC
National Television Systems Committee
The colour TV broadcast system used in the US, Canada and Japan
An NTSC picture is made up of 525 horizontal lines and has inferior picture quality in comparison to the PAL system
Please note - All DVD players sold in PAL countries (Australia) play both NTSC & PAL discs, but your TV monitor must be NTSC compatible in order to view in full colour
Please refer to your user manual or manufacturer to determine compatibility
PAL
Phase Alternating Line
The colour TV broadcast system used in Australia, UK & Europe
A PAL picture delivers a better quality picture than NTSC due to its 625 horizontal lines (sharper picture and better colours)
Please note - DVD players sold in NTSC countries (United States, Canada and Japan) may not be compatible with the PAL system, preventing playback
Your TV set will also need to be PAL compatible in order to view these DVDs in colour
Please refer to your user manual or manufacturer to determine compatibility

Pan-and-Scan
One method of converting a widescreen movie to fit in a standard 4:3 television is known as letterboxing and the other commonly found process is Pan and Scan (also known as Panning and Scanning)
To retain a fullscreen 4x3 image, the most important part of each scene is chosen and the left and right edges of the scene are cropped
Obviously, this process results in a loss of some data and does not fully represent the film as it was intended to be portrayed by the director
As such, DVD enthusiasts are not overly fond of DVDs authored via this method

Types of Recordable DVD Media
There are five distinct recordable DVD formats, including both write-once and rewritable formats
Three of these are Certified by the DVD Forum, these are DVD-RAM, DVD-R and DVD-RW

Product information on DVD Media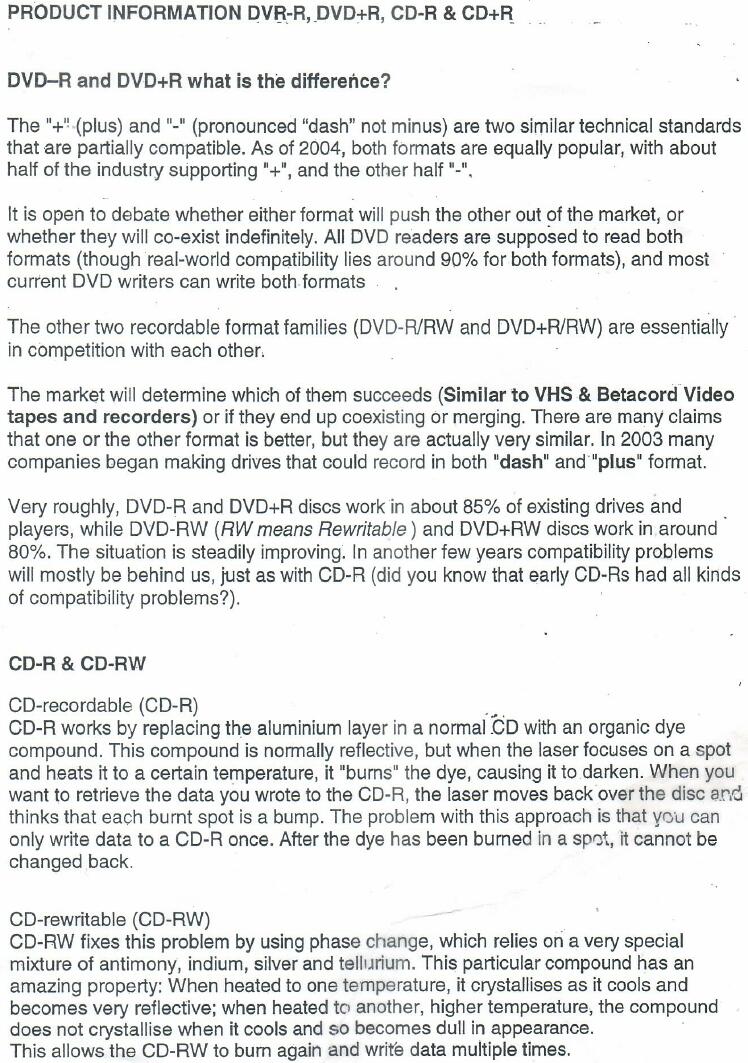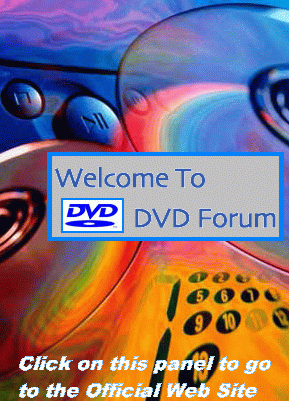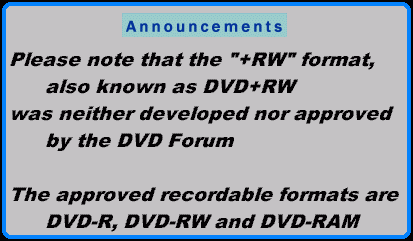 ---
x
x
x