(Return to Home page)
(Return to Brett's page)
(Return to Baseball Career page)
The 2003 Claxton Shield Competition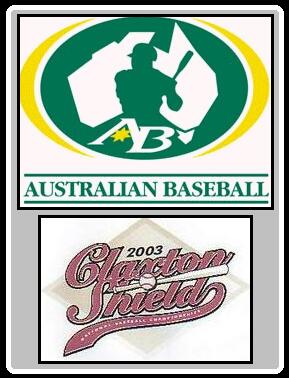 The Claxton Shield National Baseball League is back in Sydney
with the 2003 competition heralding a
new look,
new logo, and
new location - Blacktown Olympic Park!
Beginning on Australia Day, Sunday 26th January,
Blacktown Olympic Park will play host to the top six teams in the country,
for a week of top baseball action,
culminating in the final on Saturday 1st February 2003
Competing will be teams from all States
(New South Wales, Victoria, Queensland, Western Australia, South Australia)
and an Australian Provincial Team (country)
The Competition is scheduled for 18 games over 7 days

TICKETS ON SALE NOW!!
There are two packages on offer now including
PATRIOT PLATINUM PASS - $125.00
This will get you entry into every game of the Claxton Shield
including the play-offs and a complimentary program
PATRIOTS GOLD PASS - $75.00
This will get you entry into the Play offs (two semi finals and the final)

Due to his early return to the United States to prepare for
Spring Training and his first season with the Pittsburgh Pirates,
Brett was unable to participate in this competition

CLAXTON SHIELD PROMOTIONAL POSTERS
A photo of Brett was used!!!

Number 01 - click here - original size 30cm x 21cm


Number 02 - click here - original size 60cm x 42cm
The picture used in each is the same, showing Brett swinging the bat.
---