(Return to "The Roneberg's of Cairns Index" page)
(Return to "Tanya's Index" page)
Tanya - 2002
PHOTOS
Arriving at our place!!! - heading up the drive - her car is a 1994 Ford Festiva which she bought brand new - three photos - Sunday 17th March 2002
--------------------NOTE - this page updated during May 2008
And now she is unloading the car - "a bunch of candid shots!!!" - seven photos - Sunday 17th March 2002
Cross-Stitch - "Max's Moon" - Working on her cross-stitch - which is an item she is entering into The Cairns Show in July - four photos - Sunday 31st March 2002
Tanya with a "famous face"!!! - swimmer Daniel Kowolski, a member of the Australian Swimming Team - during a visit the team made to Cairns - Thursday 23rd May 2002
Cross-stitch - "Max's Moon"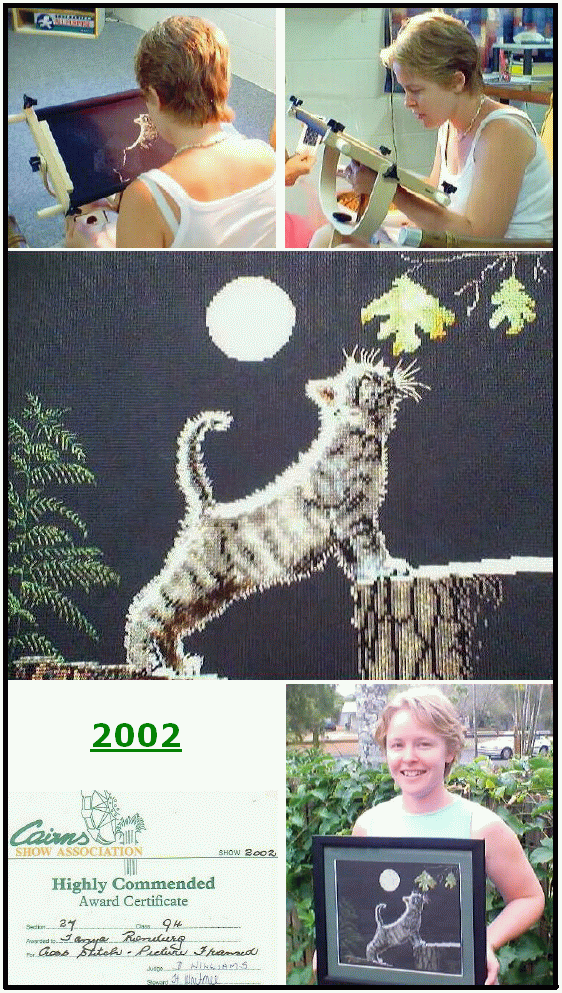 As is mentioned above on the 31st March 2002, Tanya was working on this and was going to enter it into the Cairns Show
Completed it (click here to see the finished item) and submitted it to the Show Society - the judging was done, and the results are below
..........received a "HIGHLY COMMENDED" Award!!! - and here are the results published in the Cairns Post
..........her Award - "Cairns Show Association 2002 - Highly Commended Award Certificate"
..........Tanya during her visit to the Show - and her winning entry is on display!!! - two photos
..........and another photo of some of the entries, including Tanya's
.........."Congratulations" card we sent to Tanya
.........."The Artiste with her Work" ..........a nice photo
..........a proud mother with her clever daughter ..........another nice picture
....................but what is Sharon really thinking???
Cairns Basketball - Tanya is a player with "The Timberwolves", a team which competes in the "Senior Women - "C" Grade" competition
This page lists the game results as they become available, starting from Monday 15th July 2002
And includes Tanya's contribution to the scoreline!!! - click here to go to the page
Tanya's 1994 Ford Festiva - washed and polished, and looks like new!!! - plus new seat covers - three photos - Saturday 3rd August 2002
--------------------NOTE - this page updated during May 2008
Her next challenge!!! - getting fit and ready so she can enter (and complete!!!) a Triathlon!!! - to be held later this year
Cairns Basketball - we went along to watch a game on Monday 12th August 2002 - click here for the photos
Tanya's "child"!!! - Ninja - in a playful mood - three photos
We received a "surprise parcel" from the Renner family!!! - and it included this Claude Monet oil painting for Tanya!!! - Thursday 29th August 2002
Cairns Basketball - "The Timberwolves" were featured in the October 2002 edition of the "Cairns City Life Magazine"
Click here to see Tanya's Player Profile and the team photo ..........a nice shot of Tanya
Braces!!! - "A mouth full of Gold"!!!
Tanya had braces fitted on Monday 30th September 2002, something she has wanted to have done for some time
----------her new look, and it's great!!! - plus a close-up - taken on Tuesday 12th November 2002 ......a nice picture!!!
----------and more pictures taken the same day - Photo One - Photo Two - Photo Three ......and all are great shots
----------After wearing them for 625 days, the braces came off on Wednesday 16th June 2004
----------Click here for the details and photos
The 2002 Cairns Taipans Basketball Team
----------as she was during the 2001 season, Tanya again was one of the team's statisticians - here is her official pass
----------Tanya in the Team Shirt - Photos One and Two - Photos Three and Four ..........all great shots!!!
27th Birthday - Saturday 9th November 2002
----------her card, which was made by Sharon!!! - and the combined Birthday/Christmas present
----------celebrated at Yanni's Greek Taverna - great food!!! - and some unique entertainment!!!
----------Sharon and Brett picked up Tanya on the way to the party - Tanya (two pics) - Sharon and Tanya - Brett
----------the Birthday Girl with her Mum ..........a really nice photo!!!
---
.
.
.
.