(Return to "The Roneberg of Cairns Index" page)
(Return to "Brett's Index" page)
Brett - 1995
PHOTOS
School is over !!
Graduated from Smithfield State High School in 1995
Class photo - Section One - includes the Principal, Mr Larry Gallagher
Class photo - Section Two - Brett is in this section, and the page includes a "close-up photo"
Graduation Certificate - front - lists the subjects Brett studied and the teachers for each - 17th November 1995
..........and the back of the Certificate - includes personal comments on Brett's work and attitude, a few of his sporting activities, and a comment from the Principal, Mr Larry Gallagher
It's official!!! - school years are over!!! - his Senior Certificate - Student #94-1143-0220-7 - list all the subjects along with Brett's level of achievement in each - 15th December 1995

The School Formal
Held at the Cairns International Hotel
November 1995
With his Mum
In his suit, and ready to leave for the dance - with Sharon - photo number One - photo number Two ..........terrific pictures!!!
With Melissa Hinchley
Brett's partner for the evening - taken in the gardens - three photos ..........all are very nice photos
Official photographs
With Melissa Hinchley - two photos
With Priscilla Yeo ..........a great photo
Arriving at the Formal
In a white horse-drawn buggy!!! ..........and it looks fantastic!!!
Enjoying the final School function
Outside the venue with Melissa Hinchley - two photos
Brett with Sam - and someone has written a comment on this photo!!!
Brett
......and he looks very happy that his "going to school days" are all over!!! - three photos ..........very nice shots!!!
... and a note from his "Second Mother" !!
"Have a great time" note from Anne Kippin

SPECIAL-NOTE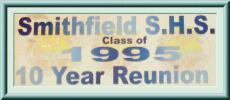 Click on the above logo for all the details of the "Ten Year Reunion"

Click on the above logo for all the details of the "Twenty Year Reunion"

Due to baseball committments, Brett was in Brisbane for the start of the 1995 school year
He enrolled at the Pine Rivers State High School at Strathpine
Attended during February, and then returned to Cairns and finished his school days at Smithfield High
(as detailed above)
Dressed in the "everyday" school uniform - the cabin is where he and Geoff lived during their stay in Brisbane - was at the Colonial Mobile Village in Taigum, one of Brisbane's northern suburbs - two photos
The school policy stated "Formal uniform must be worn by all on Fridays" - and here is Brett in his - two photos ..........very nice pictures

From Mother to Son - a letter/poem Sharon wrote to Brett just before he headed off to one of his many baseball tournaments
---
.
.
.
.
.