(Return to "Sharon and the 'Coudrey' Family History" albumn)
Tanya and Brett's ... Great-Great-Great-Grand-Parents (Rowe)
John Rowe and Elizabeth Rowe (nee Penberthy)
.
Their eldest child ... John Henry Rowe

born at Ludgvan England on 28th September 1846
.
John and Elizabeth's first-born, John Henry, departed for Australia from Plymouth on 30th September 1865
on the ship "The Gosforth" ... the ship arrived in Port Adelaide on 25th December 1865
Soon after arriving in Adelaide, he departed for the frontier mining town of Moonta South Australia
Copper had been discovered there in 1861 by Paddy Ryan, near a wombat's burrow
Upon seeing the Moonta Mines for the first time, John no doubt felt homesick for Cornwall
The 'attle' heaps, the horse whims, the ore neatly stacked at the surface and the cottages would have reminded him of home
The community was a sizeable one, with upwards of three hundred cottages
and some large houses distributed haphazardly around numerous shafts
John Henry sent numerous letters to his family in Cornwall, extolling the virtues of Australia
When her husband died in 1872, Elizabeth decided to take advantage of the free immigration scheme and join her eldest son in Australia
Her little daughter, Diana, had also died in early 1873 and this may have been another deciding factor
In mid-April of 1873, Elizabeth said farewell to her family and departed for the port of Plymouth
No doubt, the last she would have seen of her native Cornwall would have been St Michael's Mount
Travelling with her to Australia were her daughters ... Elizabeth Jane Rowe (eighteen) and Christiana Penberthy Rowe (sixteen)
and her sons ... Isaac Penberthy Rowe (along with his wife Charity Carbis Rowe and their daughter two year old Elizabeth)
and Richard Nicholas Rowe (nine) and William James Rowe (eight and a cripple) and Stephen Thomas Rowe (three)
This extended family of nine sailed on the "City of Adelaide"
and reached Port Adelaide on 3rd July 1873, after being at sea for just over nine weeks
Upon arriving in Adelaide, the group immediately proceeded to Moonta to join John Henry
and more detail on this family is available by

CLICKING HERE

and scrolling down the page to Section #09
**************************************************************
The marriage of John Henry Rowe and Elizabeth Ann Eddy
Celebrated on 24th May 1868
All Saints Church ... Moonta ... South Australia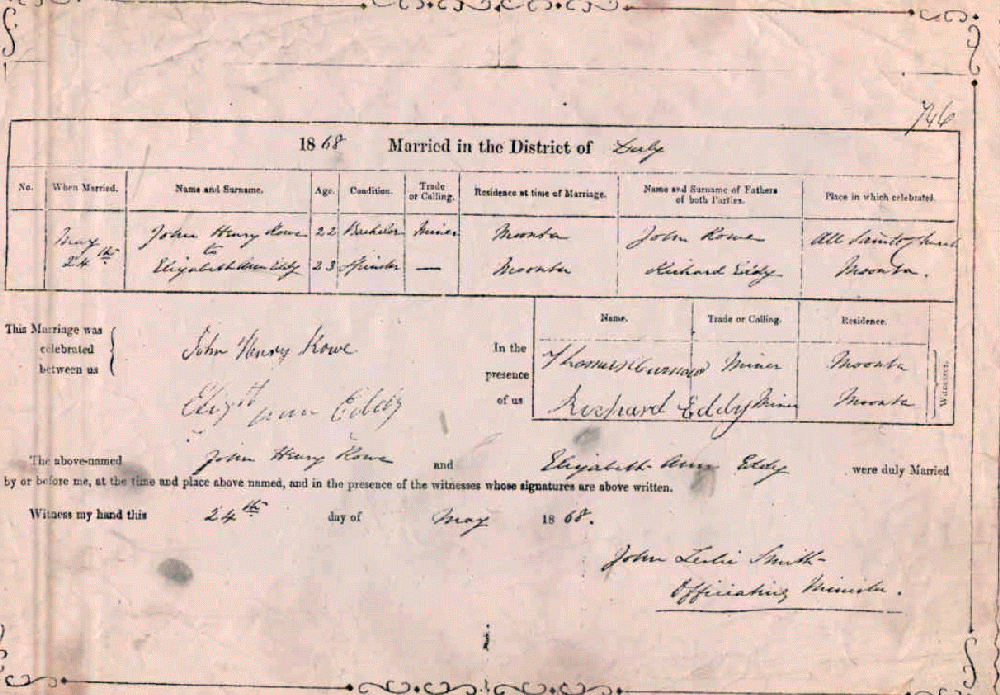 ****************************************************************************
All Saints Church
Here is the Church and Parish Hall in 1910 ...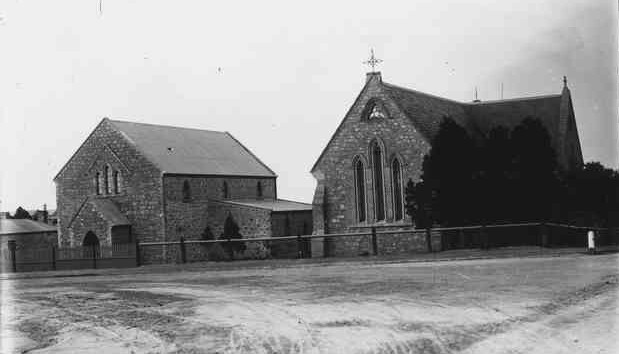 ... and how it looks today ... and you can just see part of the Parish Hall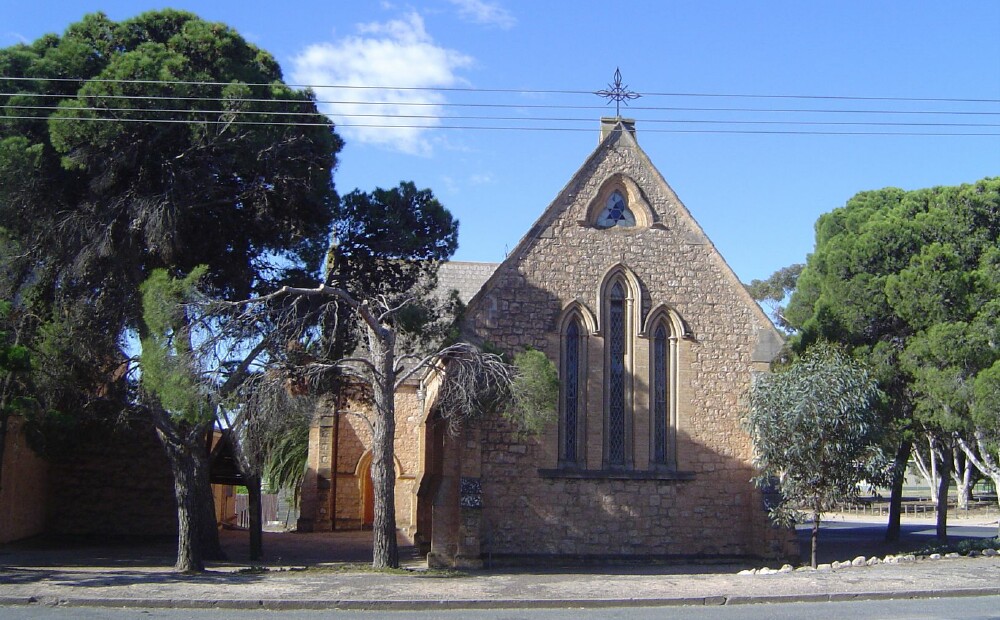 ****************************************************************************
John and Elizabeth and their Family

---
x
x
x