(Return to "Antiques and Collectables" page)
July 2008
NOTE - this page was updated on Thursday 28th August 2008
x
As well as details on the 2009 25th Silver Anniversary Limited Edition of the "Price Guide to Antiques in Australasia",
this page also includes the details on the Second Edition of the "Collecting Australiana" book also published by Carters
x
Still another Collectable and Antique Book for Sharon

......and this is the fifth edition of this series that we have bought!!!
NOTE
- there are 14 large photos on this page
and it may take a few extra seconds to download completely

(click on the above picture to go to Carter's Official Web Site)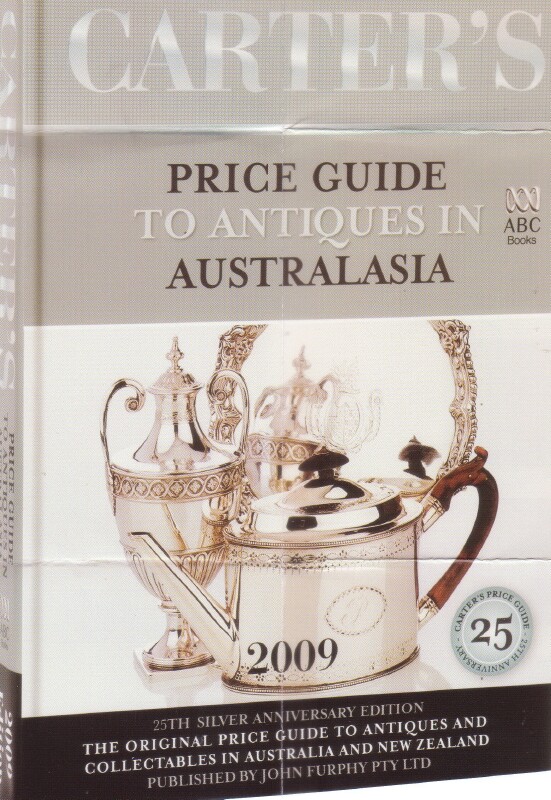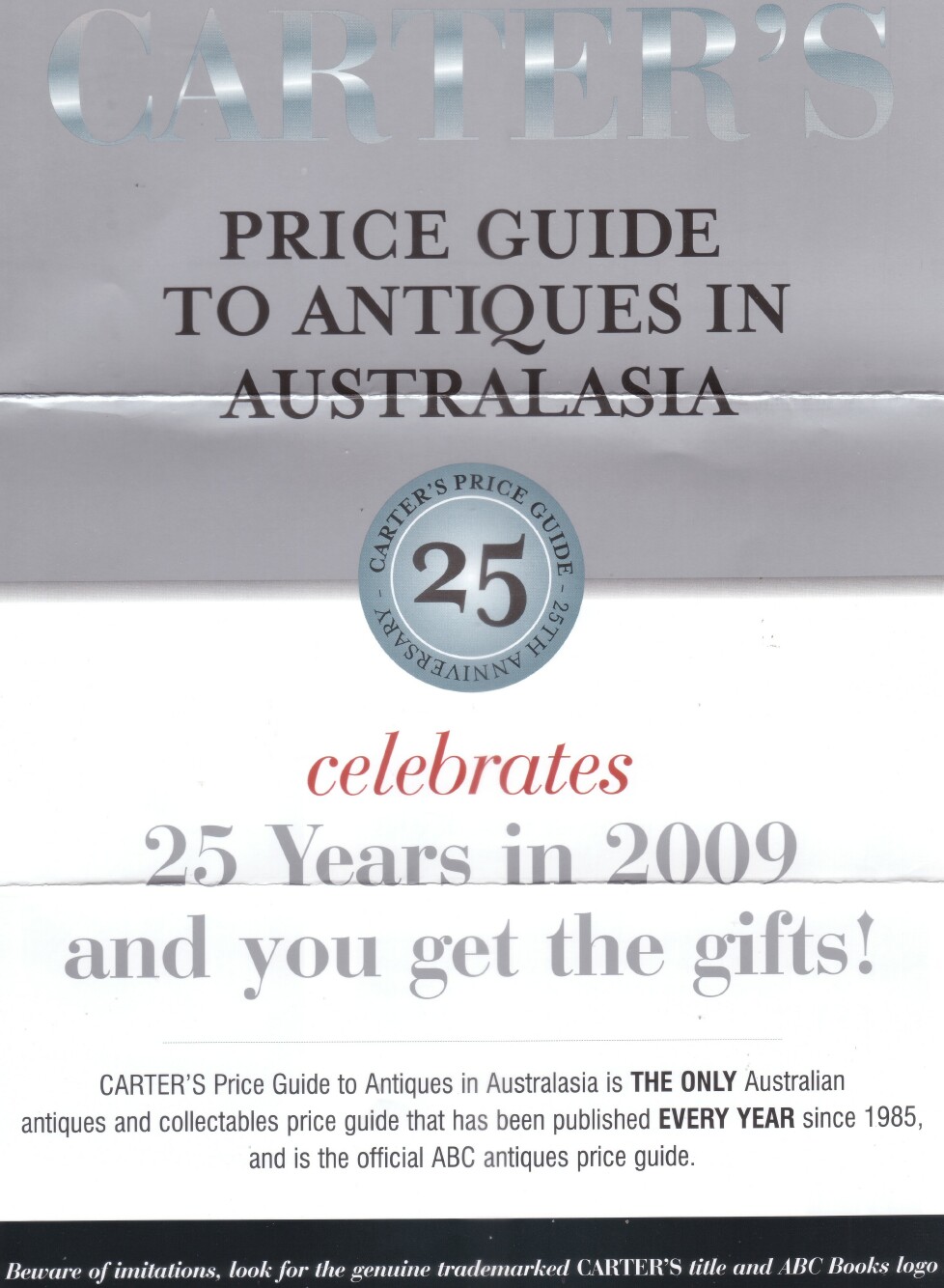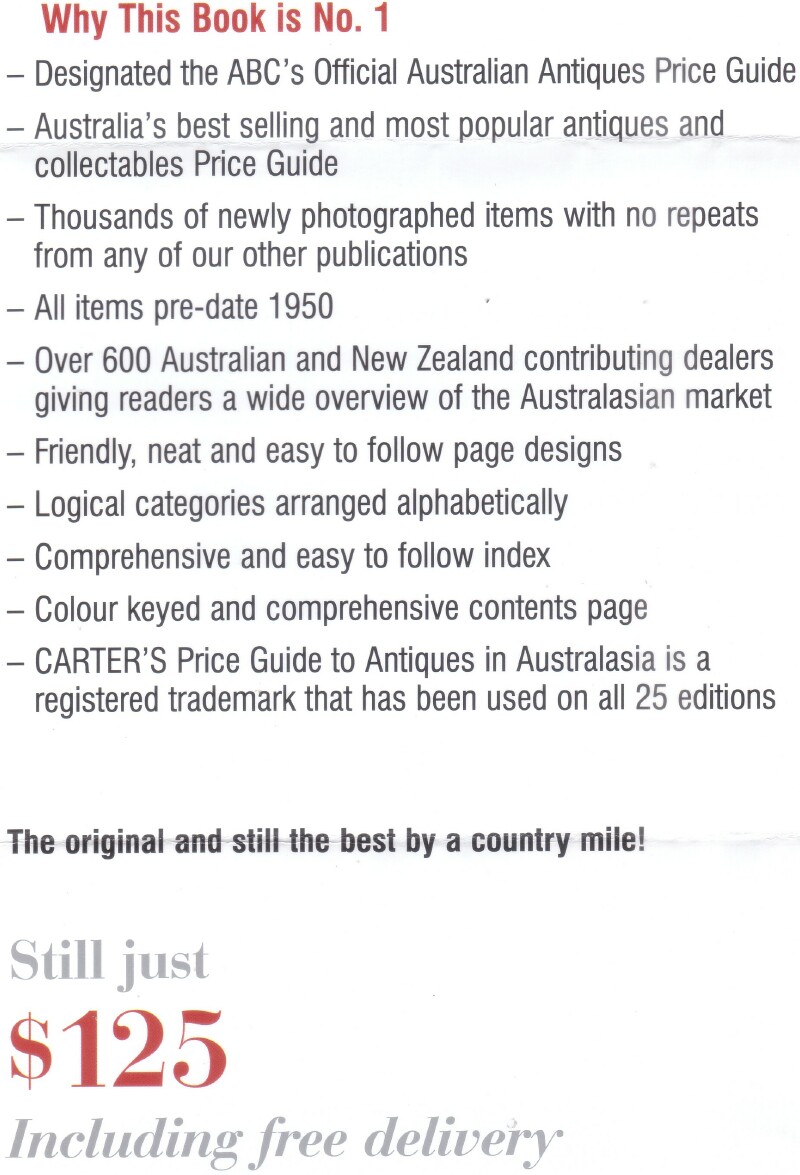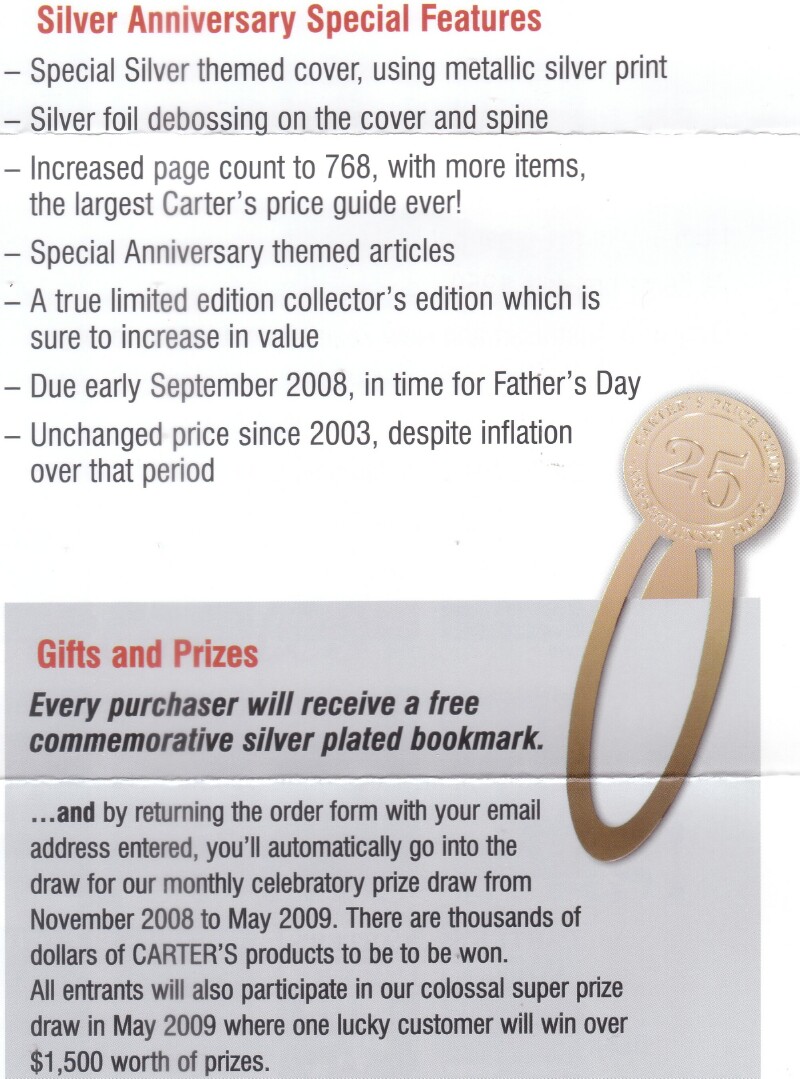 John Furphy Pty. Ltd
(trading as Carter's Antiques & Collectables Price Guide)
PO Box 7246
Baulkham Hills BC
NSW 2153
Phone - (61) 02 8850 4600
Fax (61) 02 8850 4100
Email - info@carters.com.au
Web site - http://www.carters.com.au/
*******************************************************************

The above book was delivered on Thursday 28th August 2008
... and this was the same day I received this email brochure !!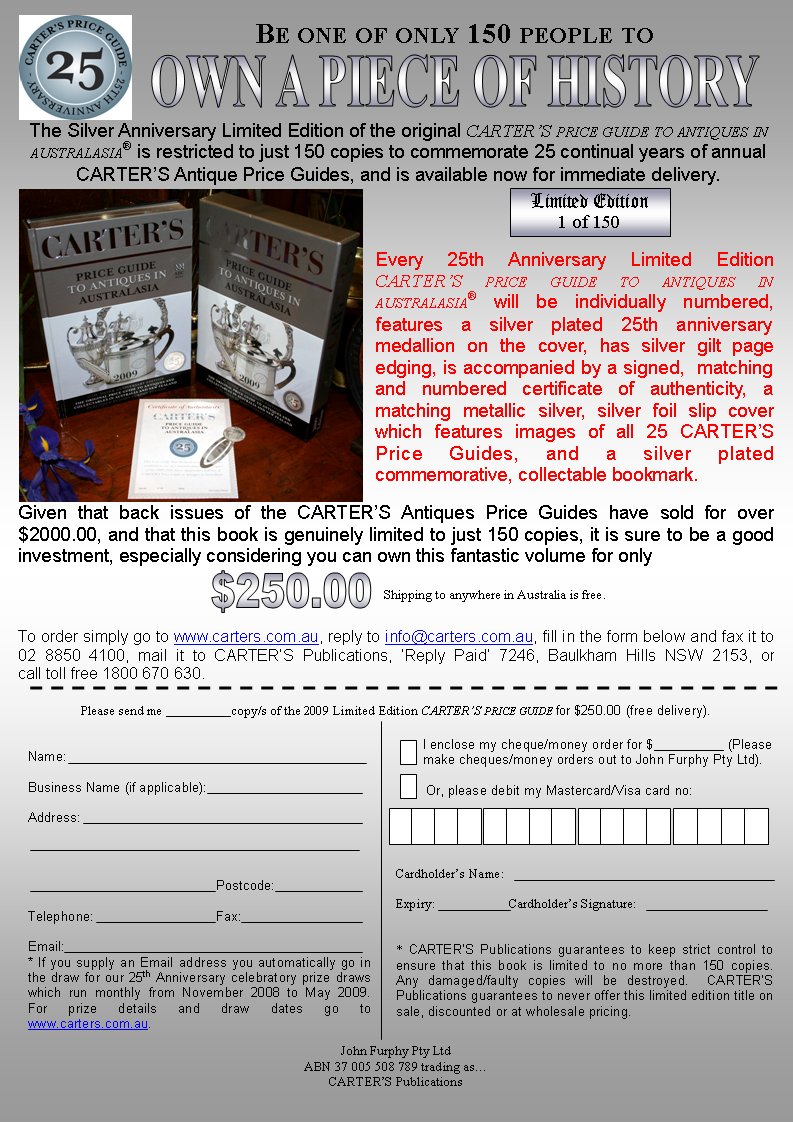 Yep, I was just a bit ticked-off, so I sent this email to Carter's Books
I was very disappointed to receive this email!!
If you look at your records, you will see that for the past five years, we have ordered both the
"Price Guide to Antiques" and the "Everything Vintage" books
We order these as soon as we receive notification from your Company that they are available
In fact, we ordered this year's copies back on the 7th July
Why send out this flyer now ??
We would have taken one of these Anniversary Editions, with the extra 'bits-n-pieces',
had we known that they were be going to be released
In my opinion, it might be "smart" marketing, but I also think it is "very unfair" marketing
in trying to have people buy two editions of the same book
You've lost me
By the way, as mentioned above, we ordered the two books on the 7th July
The charge of $210.00 was made against our credit card on the 8th August
It is now the 28th August .... twenty days after it was charged!!
Any idea where our books are??
Regards, Geoff
***********************************************************************************
Within a short time, I received a call from Trent offering to exchange our book for this
Silver Anniversary Limited Edition
All we were required to do was to pay the difference in price, this being another $125.00
We have all our Antique Books on display
This one will be as well ... but also kept in it's packing carton !!
And maybe handled only with gloved hands !!
It is great to see the "GUARANTEE" as written on the bottom right of the above brochure
***********************************************************************************
A follow-up note I sent to Carter's Books
Hi Trent
As I mentioned to you during our phone call, THANK YOU for organising this exchange of books
We really appreciate your quick response
The book did arrive the day we spoke
You had mentioned just to mark the box with 'Return to Sender'
As you know, we had also ordered the "Everything Vintage" and when the
boxes were taped together, this one was on top ... and had the label stuck to it!!
I didn't want to cut it off and reglue it ... Australia Post may have thought I was trying to 'rip-them-off'
and the book might have ended up in the 'Lost Mail' pile somewhere!!
So I wrapped it and paid the postage ... and a copy of the receipt for $14.75 is attached
We do not expect any refund ... you helped us out, and we are willing to make sure that the book arrives back safely
I suppose it could be called "scratchin' backs"!!
The parcel is marked to your attention
Thanks again
Regards, Geoff
... and the reply from Trent McVey
Hi Geoff
Sorry to hear that - I should've given you our 'Reply Paid' address for this
What I'll do is send you a complimentary copy of "Carter's Collecting Australiana" to make up for it
Regards, Trent McVey
General Manager
John Furphy Pty Ltd trading as ... Carter's Publications
PO Box 7246 Baulkham Hills BC NSW 2156
Ph: 02 8850 4600 - Fax: 02 8850 4100
***********************************************************************************
So we are receiving a free book ... and thank you, Carters !!
I am not sure what edition it will be ... maybe this one
This is the Second Edition and the one currently available
The First Edition was published back in 1993 ... so it most probably is this book ...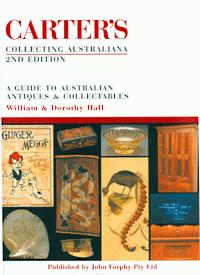 ......which has a retail price of $59.95 !!
It was this book ... and here are the details
Collecting Australiana - Second Edition
The authors, William and Dorothy Hall, have updated the text and added more illustrations than the original 1993 Edition
So readers are able to gain an overall view of the diversity in the range of Australiana available to collectors
The chapters cover the fields of furniture, pottery, glass, bottles, gold and silver, printed materials, metal and plastic objects,
wooden objects, fabric and natural materials, and aboriginal collectables
Each chapter is structured so that following the introduction, the authors discuss manufacturers, common terms,
historical background, examples, a collectors' guide and further reading suggestions
***********************************************************************************
Below are nine sample pages from the 25th Anniversary Edition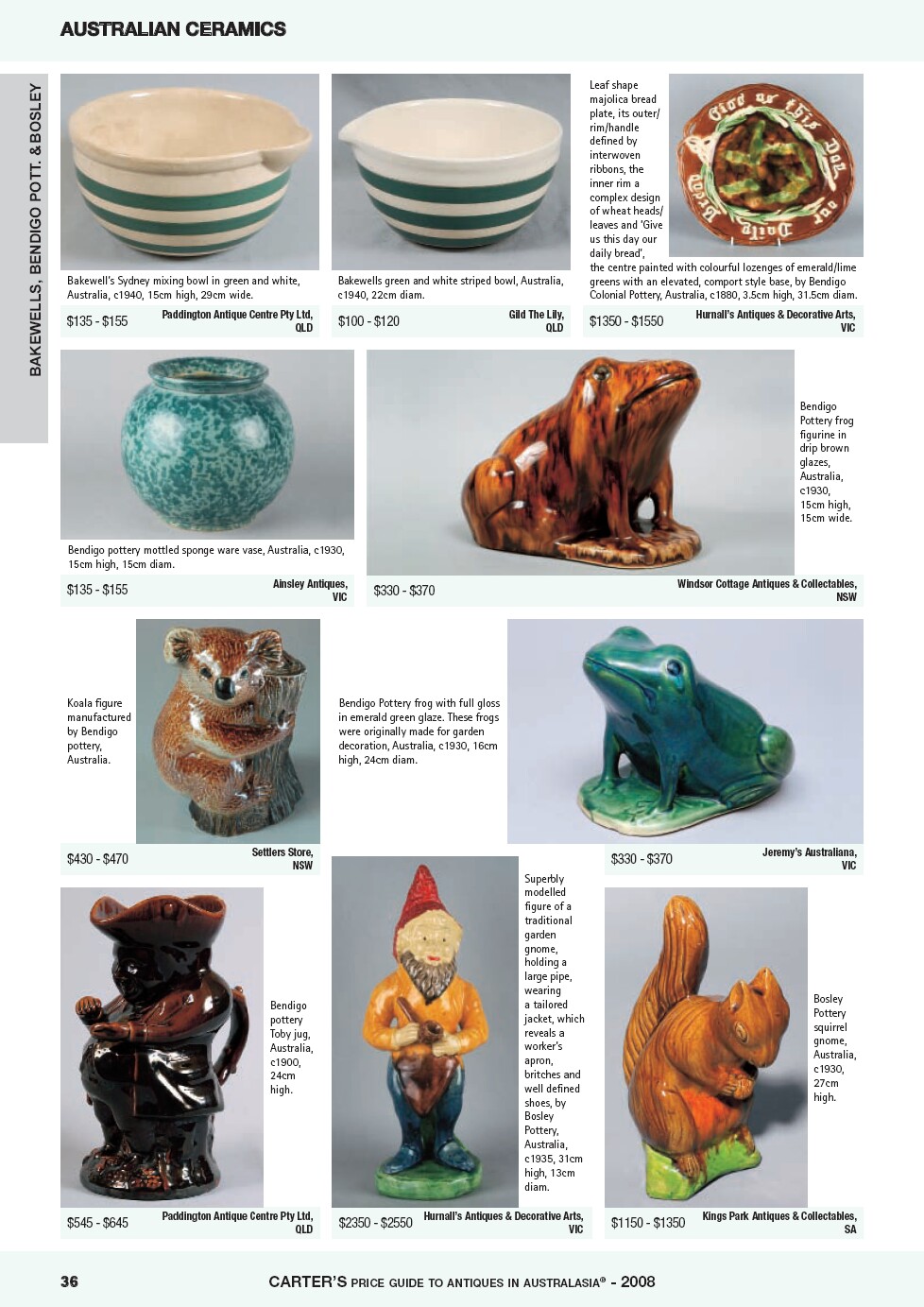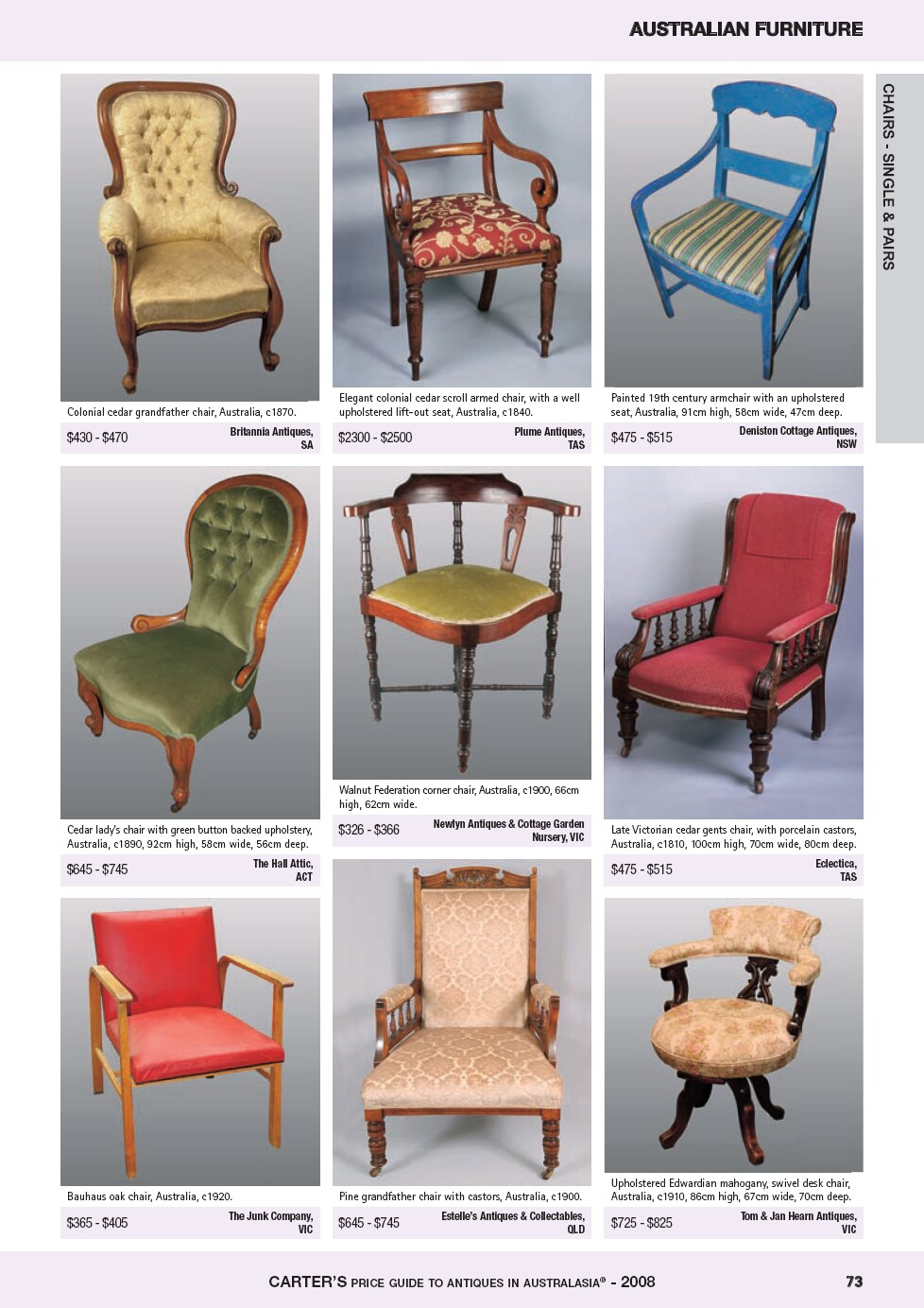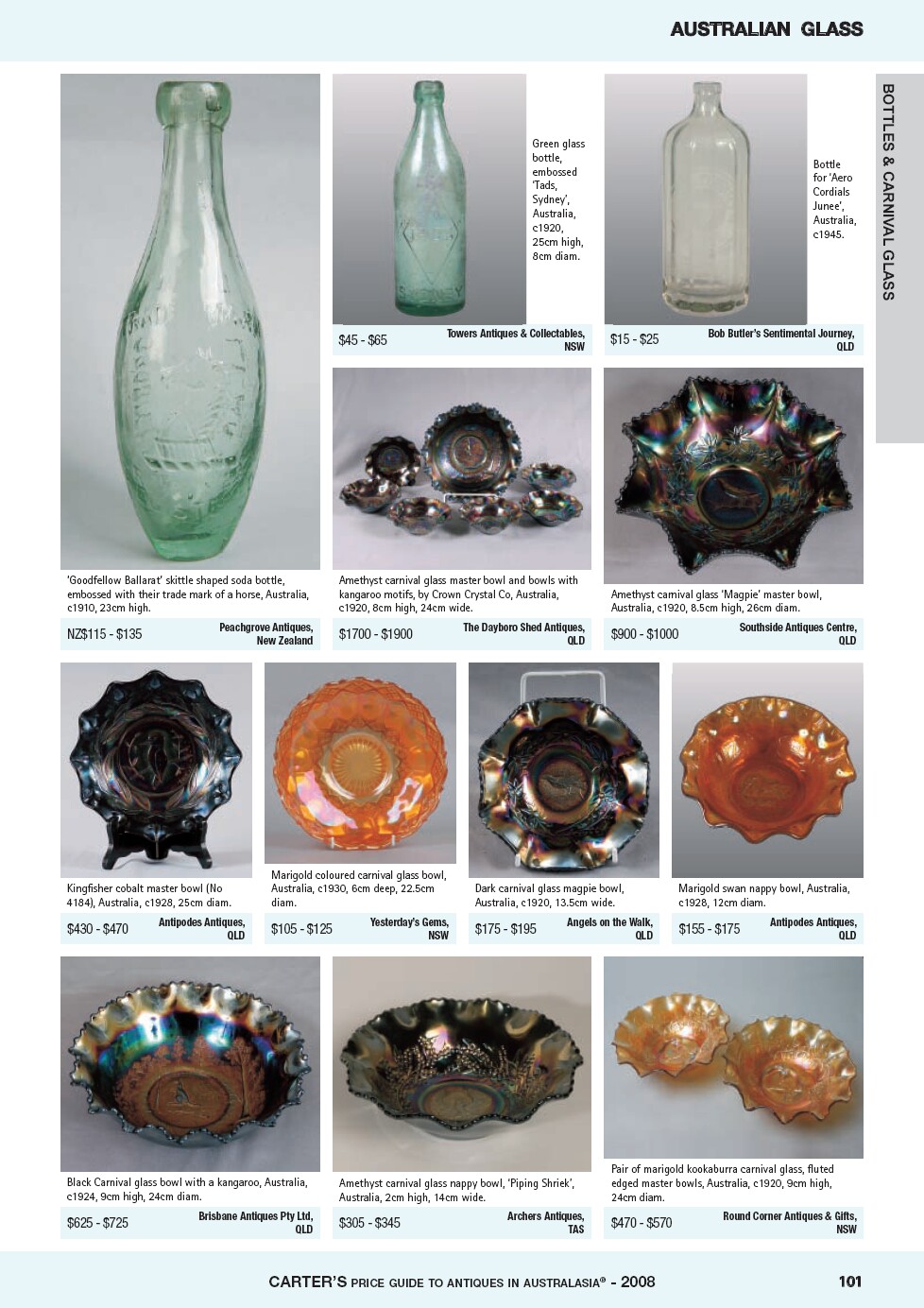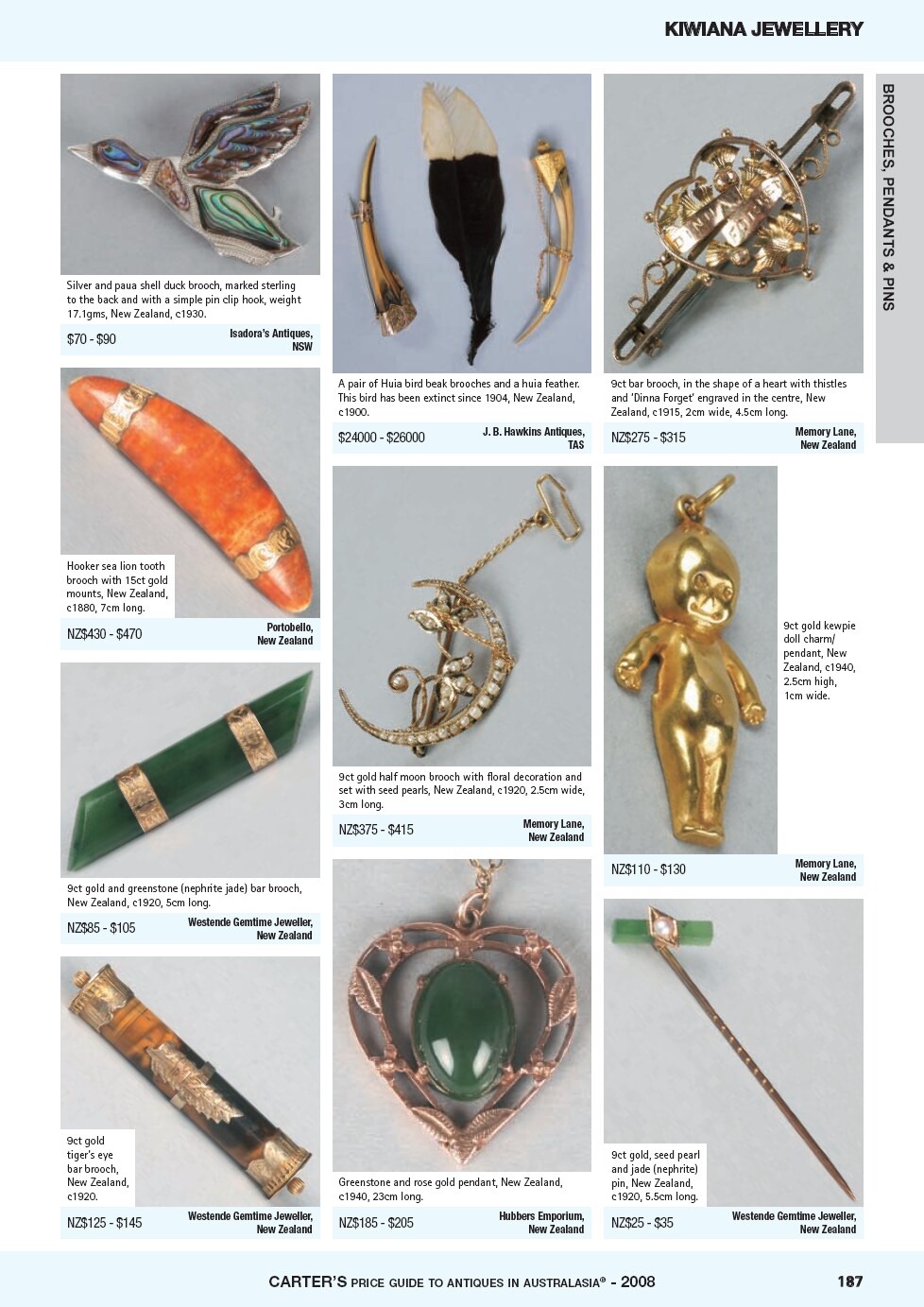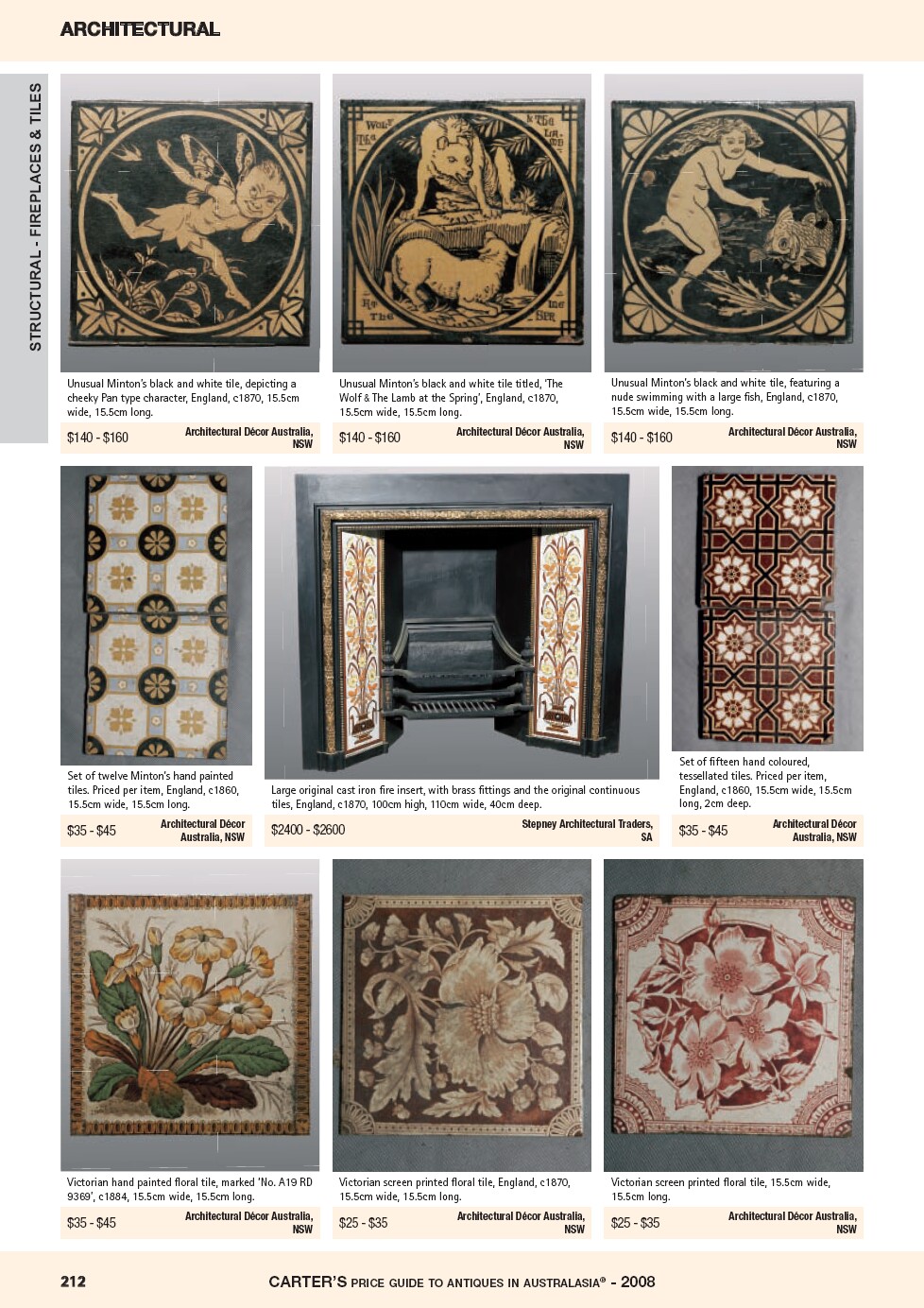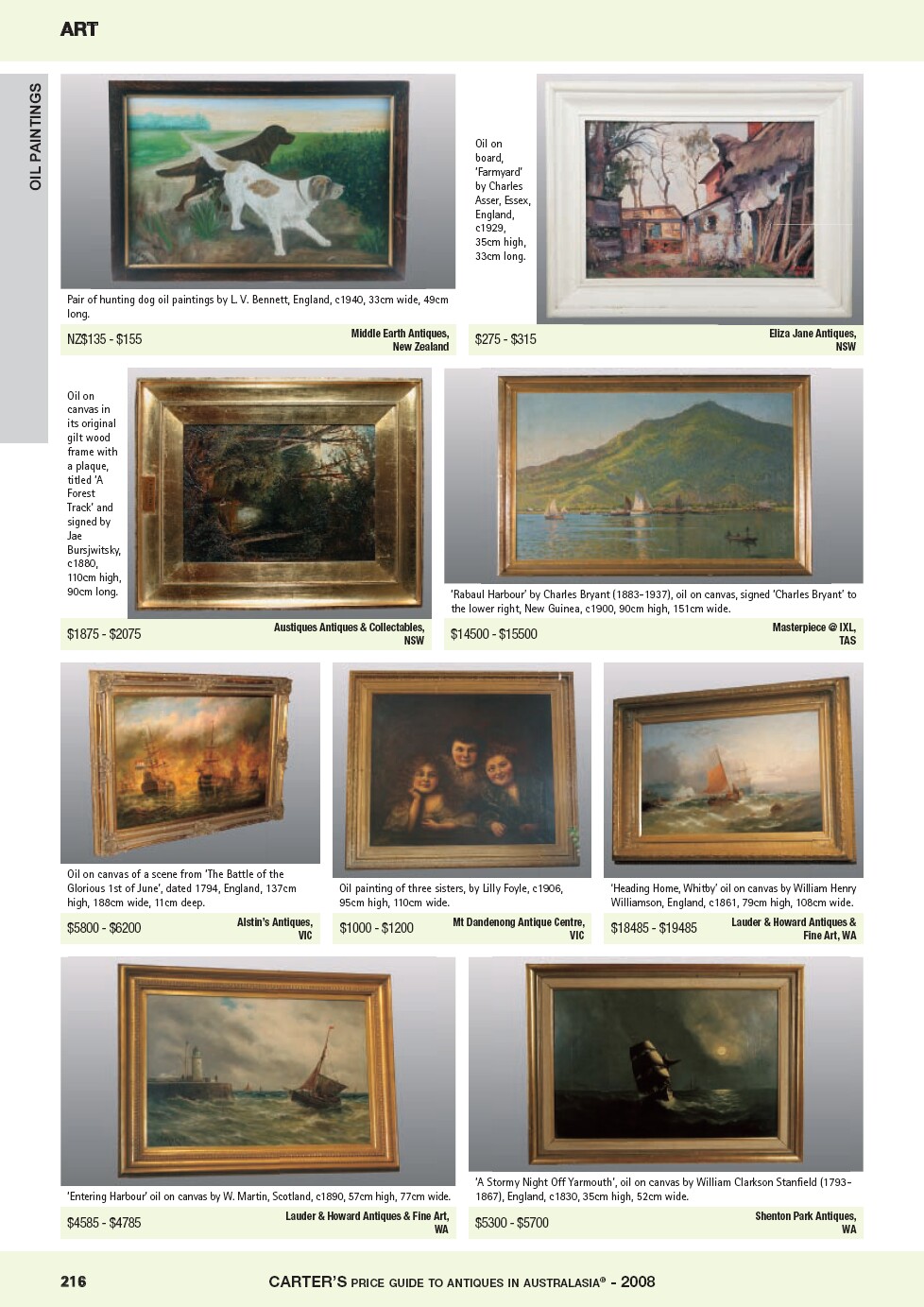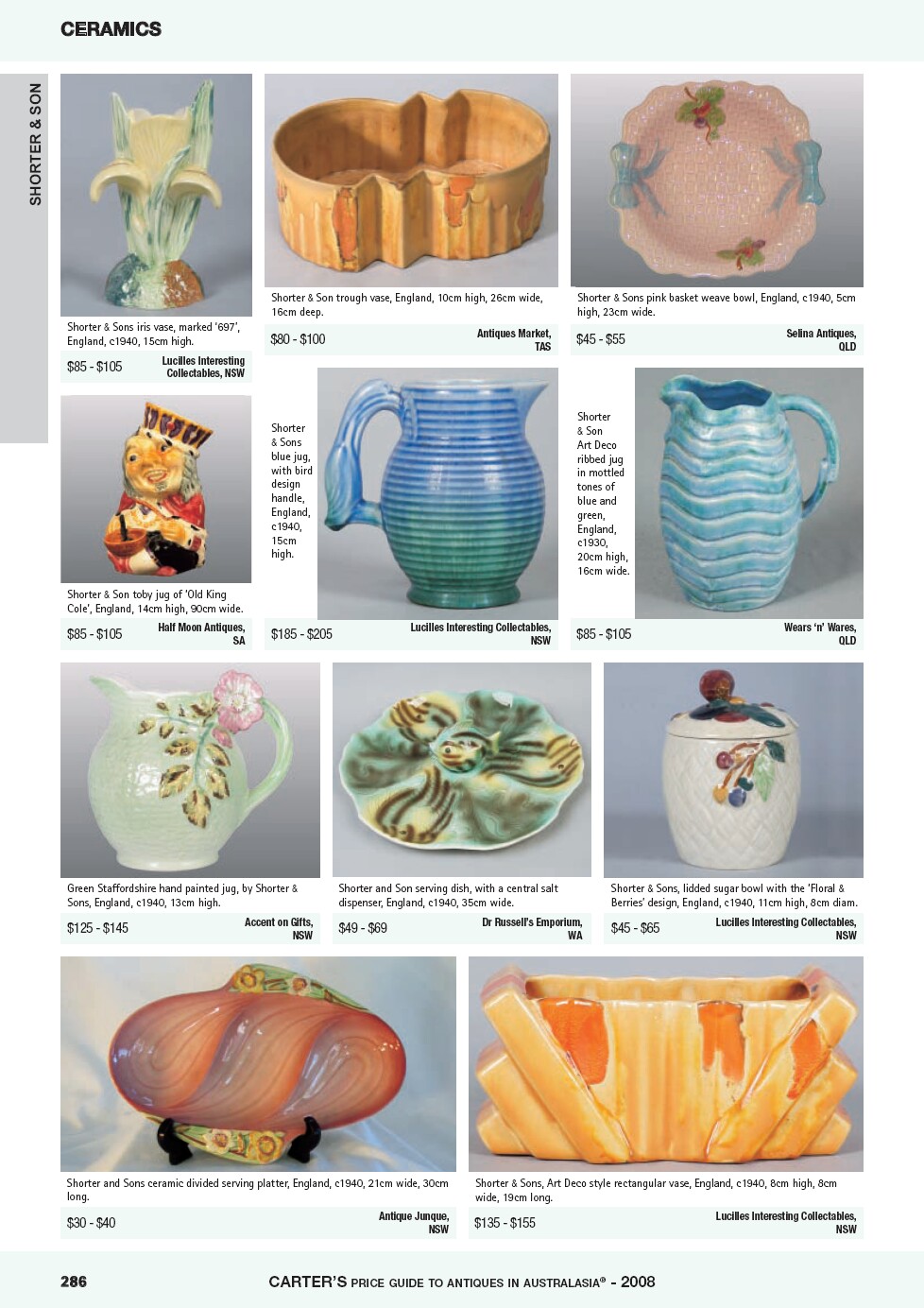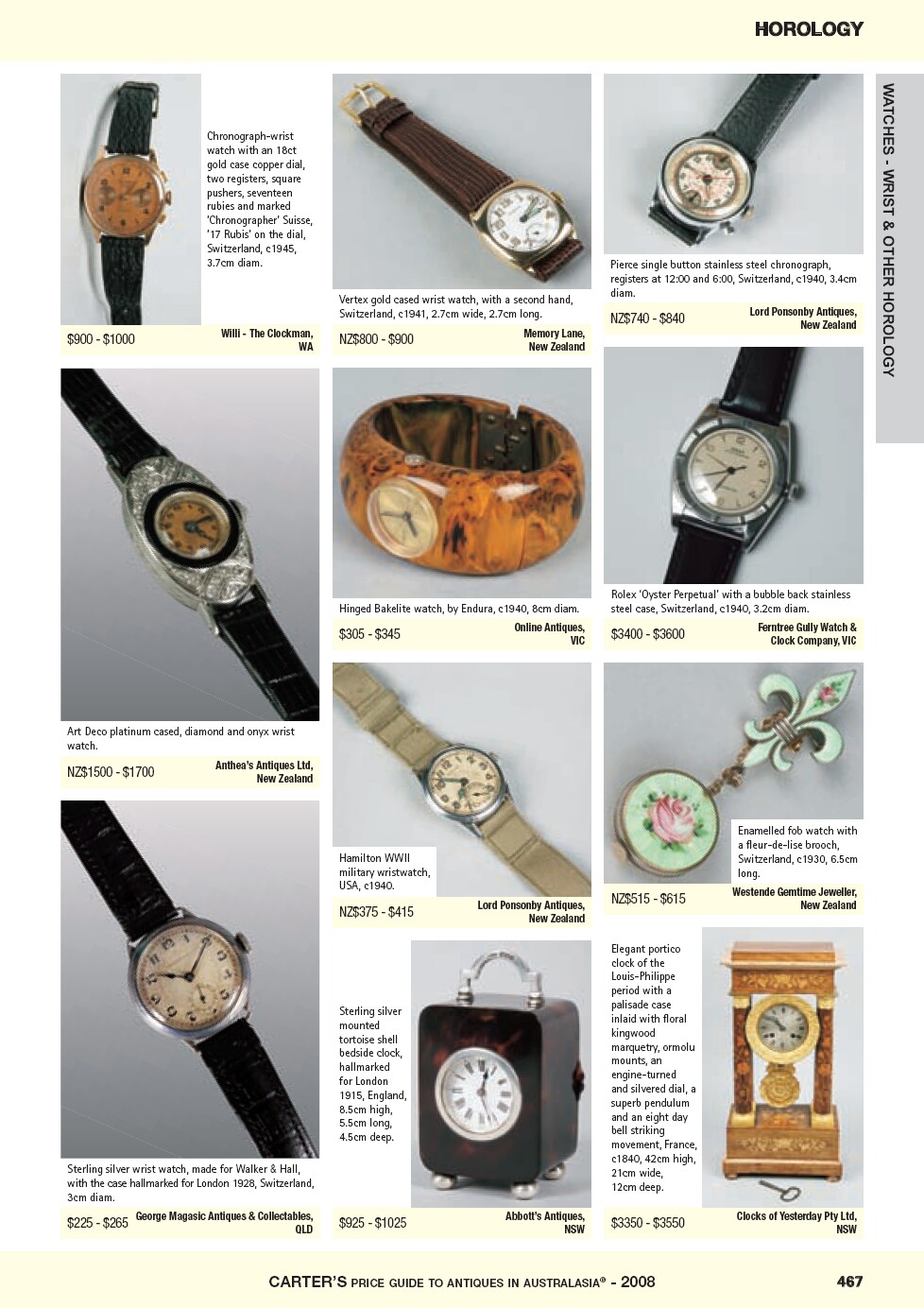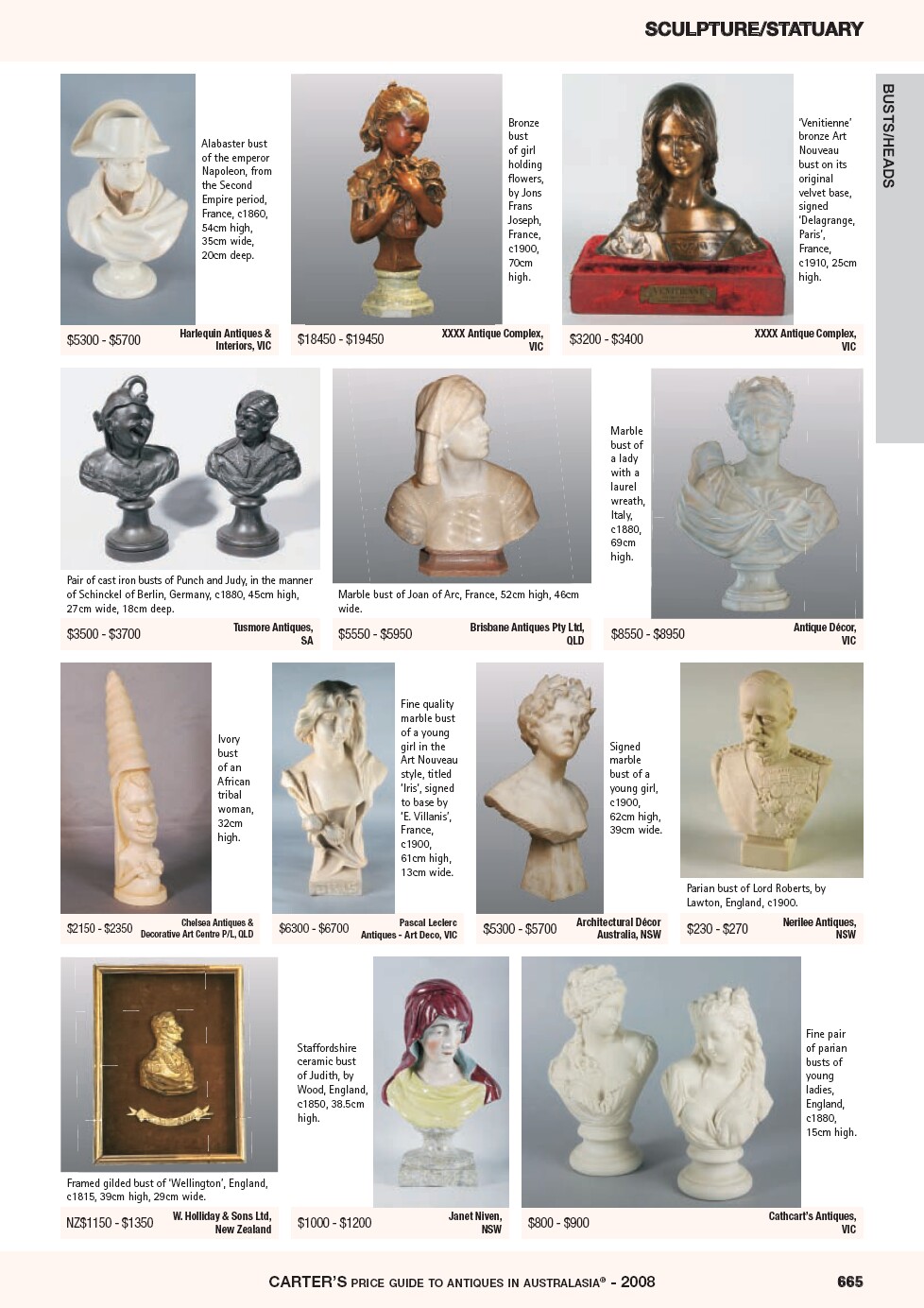 ---