(Return to "Christmas - 2007" albumn)
(Return to "Antiques and Collectables - Personal Items" albumn)
Christmas - 2007
To Sharon ...... From Geoff
Lladro Nao 'Girl with a Clown' Figurine
Circa - the 1990's (??)
Made in Spain
******************************************
x
The correct name for this figurine is......

"My Precious Friend"

All the details are listed below
x
******************************************

---The Auction Details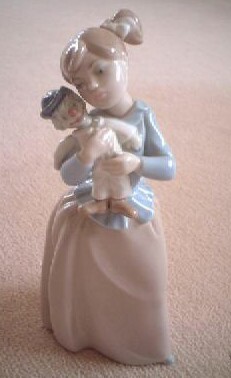 Beautiful Lladro Nao 'Girl holding a Clown Doll' Figurine
Hand made in Spain by Lladro
In good to very good condition
The figuring stands approx 21.5cm tall
More pictures can be sent upon request
Any questions? - please ask and I'll reply at my soonest
Good luck and happy bidding
A note from Geoff to the Seller
Hello Seller!!

Now, there is this girl that I married just under thirty-three years ago
Coudrey was her name, but she now belongs to the Roneberg clan

For a very, very long time this sheila has wanted a figurine by this guy, old Mr Lladro
And you got this one!!

I gotta ask a few questions
----------Is it a 'pretty' one, and by that I mean does it have a nice face and expression??
----------Is it 100% genuine, and did Mr Lladro scribble his name in texta or something else underneath, ie, is it marked??
----------Do you have any idea of it's age??
----------Has this particular figure got a name in the Lladro Range??
----------Any sort of damage at all??
----------Anything else I should know??
----------And can you guarantee delivery next week some time?? (hee, hee)

If you have nothing else to do, yep, I will have as many pics as you want to send, especially the face

Hi to you and yours from us up here

PS, keep this note a secret!!
The reply from the Seller
Hi Geoff

Firstly, thanks for showing your interest on this figurine

I enclosed some pictures to this email as per your request

I'm not an expert on this kind of porcelain
As far as I'm concerned, Nao is part of the Lladro Company

This figurine was made in 1985 and discontinued/retired in 1996
The name given to this figurine is "Girl with a Clown"

She is in very good condition with no damages

To ensure item is received before Christmas, I can arrange a courier company to deliver this item
But of course, actual address is required, not PO Box address

Hope it helps .... good luck!

Hope everything is fine over there

Cheers, Brenton
Bought it!! - a note to the Seller
Hi ya ...... and, well, I bought it!!

I will be paying via PayPal, and as soon as you let me know the total, including the courier, I will make the payment

Our street address is:-
Unit 2, 123 Trinity Beach Road
Trinity Beach
Queensland 4879

Just one thing - in case, for some reason or other Sharon is home, could you please address it to Brett Roneberg
...... and make sure that neither your name or 'rosecottages' is on the outside
Gotta keep it a secret!!

Just a quick note now ...... so you have got this info ...... will write again soon

Bye, Geoff
The receipt from PayPal
Dear Geoff Roneberg

This email confirms that you, geosha1, have paid 'brentonbc@hotmail.com' AUD$170.00 using PayPal
A note from the Seller
Hi Geoff

Thanks again for your purchase

Once payment received, item will be sent by courier to ensure that the parcel will arrive on time

Cheers
A reply from Geoff
"Once payment received, item will be sent by courier to ensure that the parcel will arrive on time"

Well, that shows no trust!!
A note from the Seller
Hello Geoff

I hope you like the figurine ... or that Sharon does!

We use Australian Air Express at work so we get a good rate of $10.00 per parcel - no matter what size and no matter where in Australia and next day delivery to most places
We only use it for ourselves on special occasions
We only used it once before to ship a clock to northern New South Wales but it is a lot cheaper than Aussie Post!

With regard to the note about 'no trust', Dylan just writes that as standard on the invoices he sends
Please don't take any offence - he doesnt have English as his first language and doesnt understand the nuances sometimes

Please let us know when the parcel arrives - it is well packed in Dylans normal style!

Terry called round on Sunday and he is doing okay

Take care and have a good Christmas and New Year

Brenton
A note to Brenton ... after Christmas Day
The Lladro Nao Figurine is PERFECT!!

But there are a couple of things:-
Number One
----------I have done a bit of research, and the name isn't "Girl with a Clown"
----------It is "My Precious Friend" --- as can be seen on THIS page
Number Two
----------I may have paid "just a tad more" than the going price!!!

BUT NONE OF THAT MATTERS!! .......... 'CAUSE SHARON LOVES IT!!

Going now to leave "some bloody awful feedback" at Ebay!!

See you, Gerald
***************************************************************
Item location - South Australia Australia
Ebay Store Name - 'rosecottagesales' - CLICK HERE
......and that is Geoff's Brother!!

Auction was listed with a "Buy-it-Now" price of $160.00
So that was the cost - $160.00 plus postage and insurance
***************************************************************
More Photos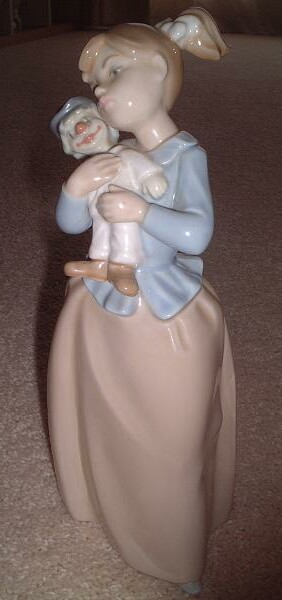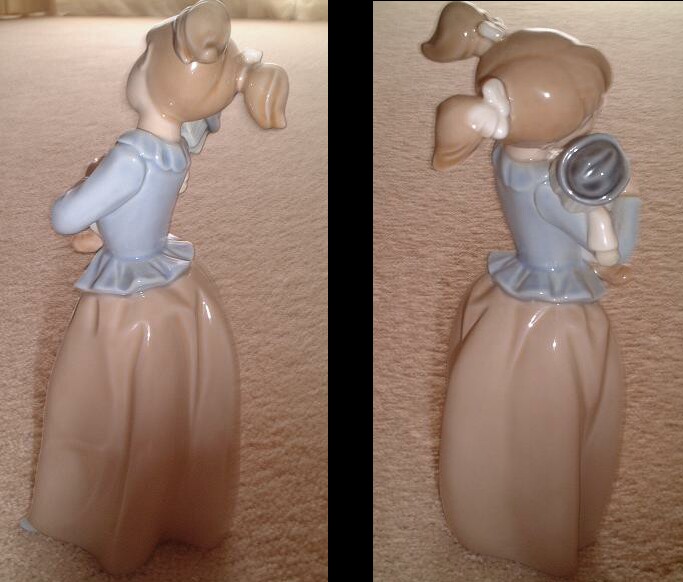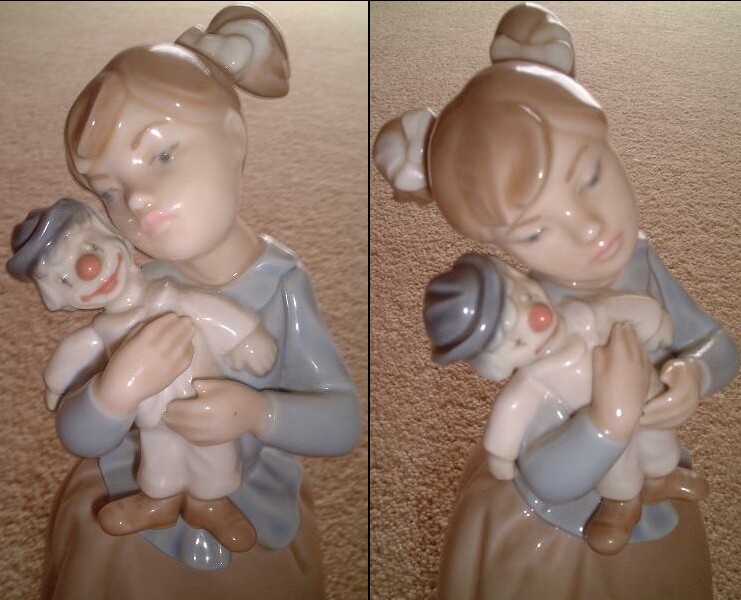 *********************
CLICK HERE
for two large photos taken after the figurine was delivered
***************************************************************
The Backstamp and Markings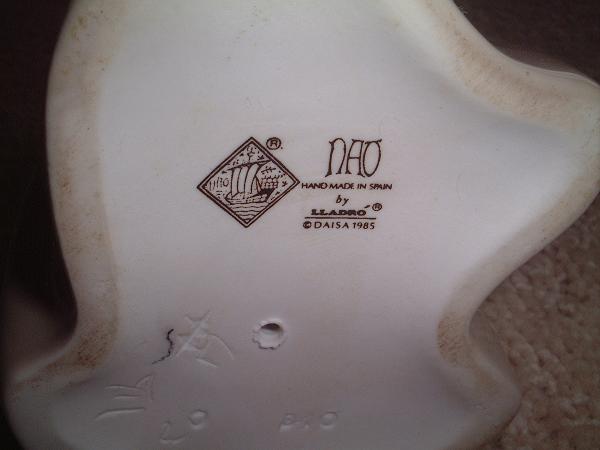 ***************************************************************
x
I made a big mistake!!

From what I can find out, I paid way too much!!

The research below was done AFTER I bought the figurine

I was in too much of a hurry,
wanting to make sure that it was delivered before Christmas

Firstly, the name was listed incorrectly by the Seller

and

Secondly, from the 'official' sites, it looks like it was
made during the 90's and not the 1980's

and

Thirdly, the price I paid
was even higher than the 'official' estimated value

and

Fourthly, in the Ebay Auction listed below, the same
figurine sold for less than a third of what I paid

All the details are listed below

Lesson learnt !!! ..... Research !!! ..... Trust no one !!!

Conclusion
Sharon is now in charge of 'buying things' !!!
x
***************************************************************
Information on the Markings
These 'questions-and-answers' are from the FAQ Sections of the Official Web Sites as detailed below
What is NAO and what makes it different from Lladró?
NAO is a brand of the Lladró group, whose pieces are distinguished by the simplicity of their forms, lighthearted subject matters and colorful presentations
All NAO pieces are created by the team of sculptors at the City of Porcelain and are made at the company's workshops in the town of Xirivella, in Valencia, Spain

Why is the name Daisa included on the base of Lladró figurines?
Daisa is the name of the Lladró company which holds the intellectual property rights for the figurines

Is it true that NAO is made by the same company that produces Lladró Porcelain?
That is correct
Nao has always been part of the Lladró Group

Do the same persons produce both brands?
No - the artisan manufacture of both lines has always been separated
The fact that NAO belongs to the Lladró Group guarantees that the quality in craftsmanship and in the techniques used are in line with the extremely rigorous standards of the Group

Is the story true about the apprentices of Lladró being trained at NAO?
No - the mastery and quality of the NAO artisans come from their experience in the brand, which in many cases is a matter of long years

What is the meaning of the word NAO?
A NAO is an ancient sailing vessel, hence the inclusion of a ship in our logo
***************************************************************
The Companies
Click on either of the logos below to go to their Official Web Sites

I clicked on the NAO web site and started to look through the "Historical Catalogue" section

I initially searched under the name Brenton gave me
"Girl with a Clown"
but nothing came up

So again using this name, I searched all of the figurine auctions at Ebay ...... nothing!!

I then went to Google, and searched again ...... still nothing!!

So I went back to the NAO web site and began looking at every figurine made
... and there are thousands of them ...
... one at a time ...
... looking at each and every photo of their items ...

But the time spent was worth it because

!!!..I..FOUND..IT..!!!
It is called "My Precious Friend", and below are the details


#02000434
and
#02010434

My Precious Friend

Sculptor - not listed

Issue Year - 1992

Retirement Date - not listed

......and click here to go to the
Official Page and Listing on the Nao Web Site
***************************************************************
Information #01
The following details are from......

Click here to go to the Official Web Site
Click here to go to the page listing the "My Precious Friend" figurine
Figurine Details

Name of Item - "My Precious Friend"
Serial Number - 434 G/M
Retired Date - M-1991, G-1996
Last Retail - AUD$133.20
Estimated Value - AUD$144.75 to AUD$156.30
Backstamp

This backstamp with logo, the words 'by Lladró' and the DAISA Lladró copyright notice,
with or without date, was used from about 1977 through the decade of the 80's
The increasing "clutter" in the mark made it fuzzy
***************************************************************
Information #02
The following emails are 'to-and-from'......

Click here to go to the Official Web Site
To El Portal Porcelana on Tuesday 18th December 2007
Attention - Peggy Whiteneck

Hello from Australia

For many years, my Darling Wife has wanted a piece of Lladro
.......... and now she is going to get one
.......... because I bought the one below for her as a Christmas Present!!

---------------------------------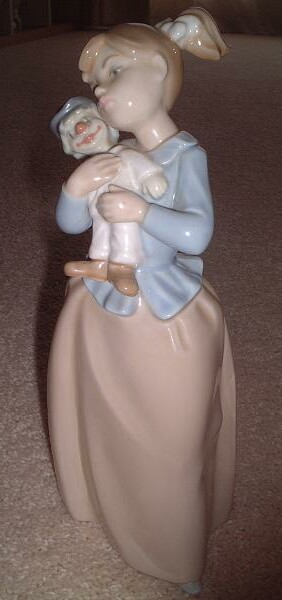 I think this figurine is called "My Precious Friend"
I do not know any other details about it

Now, I think this is just going to be the start of her collection ... and many more pieces will soon start arriving at our home!!

I did not know anything about the LLADRO and NAO connection, and I am not sure if Sharon does either
So I am after a few books for her

From your web site, I noticed that you are the author of "Collecting Lladró - Identification and Price Guide"
This sounds like the type of book I am looking for
I would like one on both the LLADRO and NAO ranges, and preferably ones that "sota lists" all the figurines, along with their details, etc
Basically, books that are suitable for a Beginner Collector

I saw the links to the various book supply companies on your web site, but I will wait until I hear back from you on what you recommend

Thanks for your time, and look forward to hearing from you

Regards, Geoff
From El Portal Porcelana on Friday 21st December 2007
G'day, Geoff!

Sorry it's taken me a while to respond to your email, but I now have the information you sought

You were indeed right about the title
This is NAO Model #343, a catalog listing for which you can find on this page of my web site
(NOTE - the details from this page are shown above in the "Information #01" section)

I should say a word about the value estimates on my site
I intend them to be deliberately conservative, as I think the market for fine porcelain figurines is 'fairly soft' right now
That having been said, I also think that clown themes are among the most enduringly popular
All of which is by way of saying this model may be worth slightly more than the USD price indicated on my site
(NOTE - the prices are as shown above in the "Information #01" section - I have converted them to Australian dollars as at December 2007)

The Lladro book can be purchased or ordered pretty much through any bookstore, but since you're in Australia, it might be easier and faster to try to get it through Amazon.com
I should tell you that the book is going out of print, so time would be of the essence in ordering

I do have a new publisher who is interested in a multiple-book project on Lladro and its various brands such as NAO
So you can expect more in the future
I can't give you a firm date on this, as the publisher I'm now working with is small and can only bring out so many books in a year, and I'm not their only author
Still, they profess to be keenly interested, so I'll submit my book proposal(s) early next month and see what happens

Very best regards and Merry Christmas to you and your wife!

Peggy
To El Portal Porcelana on Saturday 22nd December 2007
THANK YOU FOR THIS NOTE

Hi Peggy

I clicked on the link in your email, and had a look through the listings
"My Precious Friend" is listed with the number 434 - but in you email you wrote 343 - typing too fast, eh, and a typo!!

Could I now ask what the "G" and "M" letters mean?
I am guessing that there were two production runs which were retired on different dates?

I went straight to Amazon, and have ordered your book, and the estimated delivery date is mid-January
.......... but I don't know if that was the right thing to do
.......... because Sharon is going to want them all!

I have your site bookmarked, and will have a look every now and again
And will purchase your new book as soon as it is published

I guess you might be in "snow country" at the moment
Cairns Australia is in the tropics, and at the moment it is very hot and very humid - air conditioner going flat out!!

Enjoy the holidays

Regards, Geoff
From El Portal Porcelana on Sunday 23rd December 2007
Yep, Geoff, sometimes them typing fingies just get away from me!

The "G" and the "M" stand for Glazed and Matte (unglazed) respectively
Around 1991, NAO stopped making unglazed items, but most of the models issued prior to that date were issued in both forms
Because of that date, many of the matte versions of the earlier models are in fact older than the glazed versions produced well into the 1990's

Yes, we're under a foot-and-a-half of the 'white stuff' after repeated storms and one of the snowiest Decembers on record
Last time I was in consistent touch with a collector from Australia, the country was dealing with fires, secondary to a drought that had lasted for several years
So I guess humid in the tropics is good!

Best regards and happy holidays

Peggy

PS - suggest to your wife that she specialize in a theme for collecting
For example, animals, birds, kids with animals and birds, clowns, etc
That's what I did to keep from going broke!
***************************************************************
Information #03 --- Book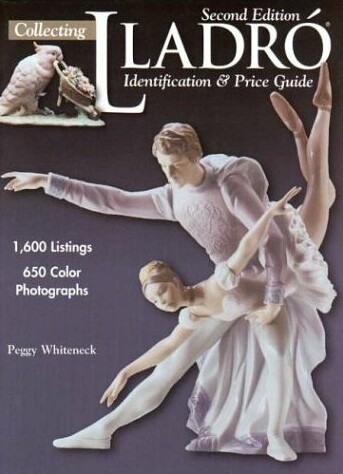 Collecting Lladro - Identification & Price Guide
A good read for the Lladro enthusiast
Good book to read about Lladro porcelains but it's pretty outdated and doesn't contain samples of the newer Lladro pieces
But then again, Lladro related books are so rare, this itself is a jewel
Majority of the pictures shown here are the 'official' photographs of pieces by Lladro themselves
It would have been great to see pictures taken by the author or owner as it would give a different angle and view of the pieces
I'm an avid collector and was thrilled to see many of the older pieces and read a short history about them in this book
Perhaps the author would consider to publish a newer edition??
And also source out Lladro examples from a more varied selection of collectors
A view of how they are stored in display cabinets at individual homes would be great too, to give a more personal and homely touch to the pieces
This is a great book and I'm sure it took a lot of effort to come out with it
I would recommend it to anyone and hope that new editions will be published in the near future

Collecting Lladro - Identfication and price guide
As a Lladro collector of more than twenty-five years, I found this book to be most informative
Even though I have read much about Lladro, there were topics covered that were new to me
A new addition would be most welcome

A Fantastic Resource!
For anyone who is interested in learning more about Lladró!
The company, the history, the incredible artistry, "relatives" such as NAO and Zaphir, collecting and becoming better at collecting, and how to care for your collection
This book is fantastic and I highly recommend it!
Peggy Whiteneck is truly an expert in this field, and has a passion for collecting Lladró that shows in every page
This second edition includes updates and new information as well as even more photos
Lladró collectors will not want to miss this!

Very happy and it arrived quickly
The book was exactly what I was looking for!
A very no-hassel transaction which makes it a real pleasure
We have found Amazon to be a very honest company
Nothing else to say
Cheers, Chris
***************************************************************
Other...

...Auctions for this Figurine
Auction #01
Nao by Lladro - Daisa 1985 - this is a beautiful figurine called 'My Precious Friend' #434 - a daydreaming girl wearing a tan skirt with a baby blue blouse and blue shoes - she has two white hair bows holding up her pigtails and she is holding her clown doll in her arms - there are life like expressions on both the girl and the clown doll - this figurine has exquisite detail, beautiful coloring and soft features - the item can be found in the NAO Catalogue in the 'Kids with their Toys' Page 1 - it is also listed in the El Portal Porcelana Catalogue (as detailed above) - retired piece stamped NAO by Lladro Made in Spain Daisa 1985 - consider this piece as it's beautiful and flawless, with no chips, cracks or scratches - item location is the United States - the auction ended during November 2007
There was one bid and it sold for AUD$46.35
Auction #02
Nao Lladro figurine - this is called 'My Precious Friend' and is a girl holding a clown doll - from 1985 - the figurine stands nine inches high - it is in mint condition - item location is the United States - the starting price was set at $11.50 and the auction ended on Monday 7th January 2008
There were nine bids and it sold for AUD$41.25
Auction #03
This figurine is of a girl with a clown doll - it is a retired/discontinued piece and this is your chance for one - stands approximately 23cm high - this Nao figurine is in perfect condition, with no marks or scratches - it has been well looked after and kept in a closed display cabinet - Nao porcelain figures are all hand made in Spain and Nao is a part of the Lladró Group and they produce natural and elegant hand-made porcelain figures - item location is Manchester United Kingdom - the starting price was set at GBP0.99 = AUD$2.15 and the auction ended on Sunday 3rd February 2008
There were nine bids and it sold for GBP19.75 = AUD$42.90
---