(Return to "Antiques and Collectables" page)
Tuesday 24th October 2006
Encyclopaedia of British Pottery and Porcelain Marks

by Geoffrey A. Godden
A note from Geoff to Sharon
This should help you in identifying all your stuff!!!

Over 760 pages!!! ------ Over 4,500 entries!!!

At the moment, you have about a dozen books with thousands of Photos and Prices
......and now you have the best book available showing the Makers and their Marks

You should be able to find out everything about the items you have that are marked
"Made in England"

......without getting 'hot-and-bothered' trying to find the info on the internet!!!
************************************************************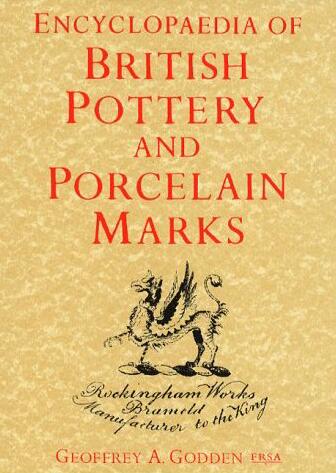 An obvious but certainly necessary first choice for any collector if they have an interest in British ceramics, and from a dealers point of view it is absolutely essential

First published in 1964 and still in print today, the best all round source book for British ceramic marks

Referred to by some antique dealers as the 'Bible' for ceramic marks, and the author himself is often referred to as 'God'
Somewhat irreverent perhaps, but indicating the importance of both book and the author in the antiques trade

Apart from in depth research of Trade Registers, Pottery Diaries, Patent Office records etc, Dr. Godden obtained the Staffordshire Potteries records of one Alfred Meigh
Alfred Meigh compiled these over a twenty-five year period from the Staffordshire rates records before they were destroyed during the last war
Geoffrey Godden obtained this unique archive of information and marks, and has enlarged and improved upon it in his various published works

The main part of the book lists the companies in alphabetical order, along with illustrations of marks, and the periods for which each mark was used by that company

Brief information on the company, former and subsequent partnerships, and their location in the book are given

An indication of whether the mark was impressed in the clay or printed on the item is also given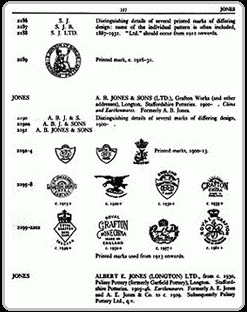 The sample page illustrated above under the name A.B. Jones and Sons illustrates eleven different versions of printed marks used by the factory between 1900 and the 1960's, and including the names Grafton and Royal Grafton
If you were to look up Grafton or Royal Grafton in the alphabetical list you would be directed to this A.B Jones page
These printed marks would be only a part of those used by the company and variations did occur
Many maker's marks include the initials of the factory (in this case A.B.J.) and although the design of the mark may change, the initials would remain as an indicator to the manufacturer

Beneath most marks is an approximate date when this type of mark was introduced, by taking the next mark in the sequence, and its date of introduction, you can estimate the date of the item you are researching

Although this book offers the largest and most accurate collection of British ceramic marks available it cannot illustrate or describe the tens of thousands of variations of factory marks used over a two-hundred-and-fifty year period
A bit of detective work using the initials or part of the design to locate a manufacturer may be necessary
To assist in this the author includes an index of signs and devices and monograms

Also included is a list of unidentified marks used by, as yet, unknown manufacturers or illustrated in other publications with perhaps a dubious attribution

Although in its thirty-six year life there have been very few changes to the content, the author has tried to persuade the publishers to allow a full and revised edition
***************************************************************
Purchase and Price Details

Hardcover with 766 pages
Publisher - Hutchinson (31 Dec 1968)
Language - English
Price - RRP is GBP50.00 - sale price was GBP33.00 plus GBP7.98 postage
Final price - $103.77 Australian dollars via AmazonUK
Other sales of this book
15th May 2008 - second hand 1991 revised edition - $60.90 plus postage
***************************************************************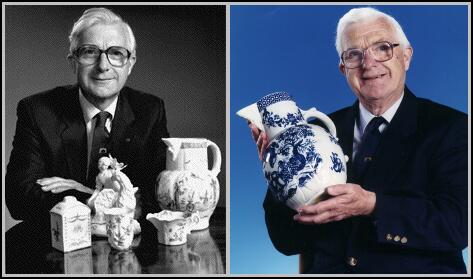 Geoffrey Godden FRSA
***************************************************************
Reviews

"A fantastic book that gives you the name and the location of the markings of British pottery and ceramics - if it's not in this book then it's probably cheap tat!! - makes going to car boot sales, auctions, second hand shops and charity shops quite exciting as you are constantly wanting to use your knowledge - don't be cheap, buy this book and get on with your life!!"

"How I got by without this bible of Potters' marks I just don't know - the cross references are superb and make it simple to track down old manufacturers to their modern-day guises - this is the only potteries' reference book you will ever need - I wish I had taken notice of previous reviews before wasting money on other, lesser, publications"

"This book is absolutely packed full of facts, from the most well known potters to the more obscure - there really is no point getting a cheaper version that covers a few, when you can get the best for a bit more money well spent"

"A goldmine of information!! - if you're new to buying pottery and porcelain it will save you a lot of costly mistakes - money well spent!!"

"Having just decided to collect antiques as a hobby, I was desperately in need of a book which enabled me to authenticate marks with some certainty - this book has become my bible and has enabled me to progress from an amateur to a person with limited knowledge, who is gradually building up her knowledge of marks - couldn't have coped without it - clear to follow and helpful in identifying the period manufactured - a must for any keen collector"

"The primary reference book used by dealers and collectors to identify their antique and vintage English china, pottery and porcelain - it's a fabulous book, whether you're trying to identify anchors or crowns, As or Bs, or want to check what your date mark means - this is the book for you - illustrated with thousands of marks from English manufacturers - very easy to use - highly recommended - often referred to as the 'bible' by collectors and dealers in England - it would be cheap at double the price!!"

"This book is jam packed with information - perhaps that's why it was so expensive - it has everything you need to know on buying British pottery and porcelain marks and helps you to identify when a piece was made, making it essential for serious collectors as well as beginners - it is also well illustrated and easy to use - for serious collectors and dealers it would be worth the money, amateurs may want to look for something slightly cheaper"

"This encyclopaedia is still the best of the lot of British marks books - 756 pages with 4,516 entries which detail factories and potteries from 1650 onwards - arranged alphabetically and cross-referenced"

"A comprehensive glossary is linked with illustrations to enhance the readers appreciation of the various types of ceramic body and styles of decoration - the bibliographpy provides an important guide to further detailed information - there is no doubt that this illustrated encyclopaedia will prove absolutely invaluable to the beginner, the general collector and the specialist alike"
---