(Return to "Antiques and Collectables" page)
Friday 20th October 2006
Another book to add to Sharon's growing library!!!
Cast Iron Valuation Guide - Revised and Updated

by Ken Arnold
SPECIAL NOTE
The book on the right is the one we bought
On the left is the earlier edition,
and this copy was included "free-of-charge" in the parcel
Thank You, Yvette Ganon!!!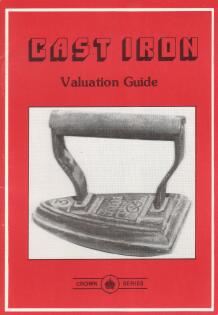 ---------------------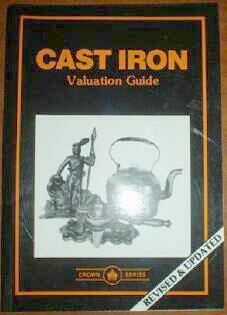 Illustrated throughout with black and white photographs

With descriptions and valuations - pictorial laminated cards

This book covers all kinds of things produced in cast iron by the start of the eighteenth century

Including:-
History and Care of Cast Iron
plus --- door knockers
boot scrapers
stoves
umbrella stands
kitchen items (quite a few of these)
grinders (as in meat grinders)
fire places
fenders
irons
coffee mills (Expresso eat your heart out!)
scales
sewing machines
......and a few others
Lots of pictures
*******************************
Publisher - Crown Castleton Publishers Golden Square Australia
Publication Date - 1995 - Revised and Updated
Pages - 64 - 7 inches x 9 inches
Binding - Soft cover
Condition - 'a fine copy'
Price - $10.00 plus postage

Purchased on Friday 20th October 2006 from:-
Ganon Books
13 Solas Road Morley Western Australia 6062
Telephone - (61) 08 9377 2896
Email address - yganon@bigpond.net.au
---