(Return to "2006 Altoona Curve" Index page)
"Curve Chatter"
An video interview with Brett

(duration - 7 minutes 30 seconds)

"Curve Chatter"

This edition was added to The Altoona Mirror web site on Thursday 24th August 2006

At this point there was about thirteen games left to play in the reular season

Cory Giger interviews Brett and some of the topics discussed are:-
where he is from
the season to date
the Pirates, Curve staff, and the players
the Eastern League playoffs
selection of the team's 'Most Valuable Player'
and much more
......including of course, this web site!!!

It is embedded in a Windows Media player
The video runs for seven-and-a-half minutes
and is therefore a big download!!! - 8.23Mb
It is more suitable for a broadband or high speed connection
and even then it may take a few minutes to get started
Just be patient!!!

Ready to go??
Are your speakers switched on??

Well, just click the "PLAY" button in the controls below!!!
Enjoy - it's a great interview!!!
NOTE
As well as this interview, there are a number of others listed on the Mirror's site
Click on this button--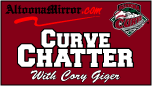 --to have a look at the complete list
(this link active as at Friday 8th September 2006)
---